Much as we were enjoying the wine route, we both fancied a change of scene so swinging West we hopped off the Route du Vins and travelled across country via Munster (home of the very tasty and very smelly cheese) and joined the final part of the Route des Cretes – marking the border between Lorraine and Alsace and a stunning route down a winding road carved into the mountainside of the Southern Vosges sweeping through thickly forrested slopes with incredibles views and outlooks, frustratingly often in places were it was impossible to pull over and stop. This 'ridge route' was created during the First World War to protect the Vosges front, creating a concealed roadway for troops and equipment to be transported undetected.  Unfortuntely we took a wrong turn missing out a good part of our intended journey and joined the road a bit further down after the Col de Schlucht, and continued onwards to The Grand Ballon, the highest summit in the Vosges Mountains at 1,424 metres. What we did see of the route left us yearning for more and promising to come back and complete it another time.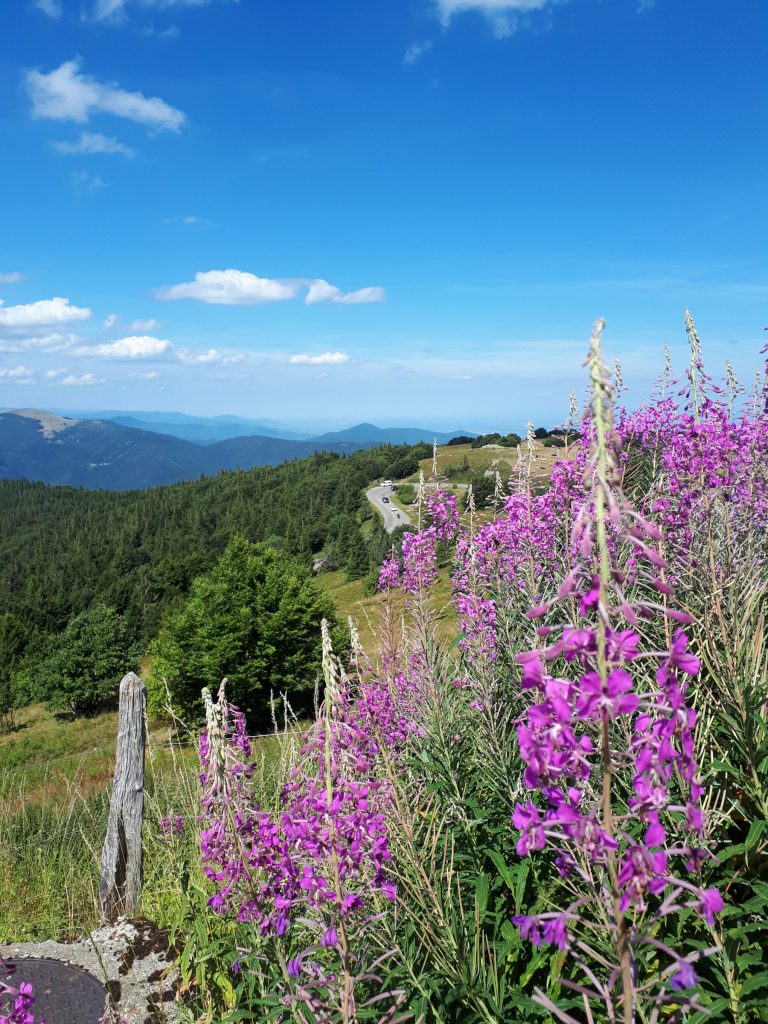 The drive up, although zig-zagging and steep was not a problem for Buzz and perfectly motorhome friendly. It's a popular road for motorbikes and brightly attired cyclists too and being a Sunday it was quite busy with both. The former enjoying taking the corners at speed and the latter enjoying the long, hard challenging slog that only a super fit cyclist could ever hope to achieve. If you haven't got the proper gear you can forget it, you wouldn't get past the first hairpin bend! The Routes de Cretes has been part of the Tour de France in the past so if you've got the legs for it you'd be cycling in the tracks of legends. Plenty of families were also out for the day, walking from one picnic spot to the next taking in the magival views, watching the paragliders overhead and spotting birds of prey hovering above.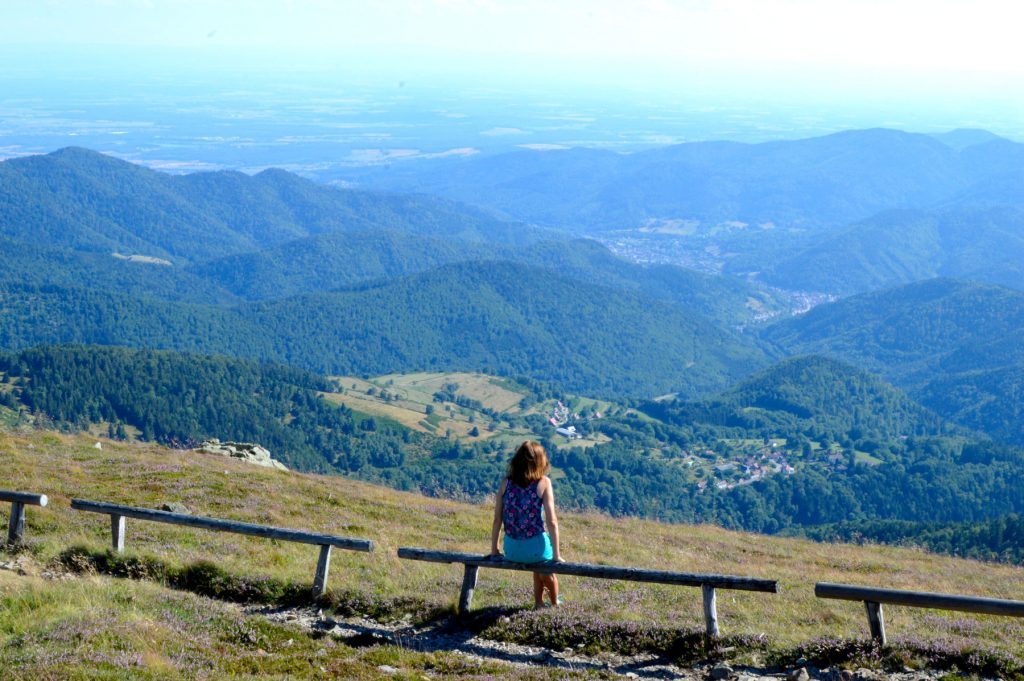 Buzz did have a bit of an uncomfortable moment when we accidentally drove into the wrong part of a car park and found ourselves in a bit of a sticky situation in a very uneven field with a very tricky exit point. It took slightly more than your average 3 point turn to manoeuvre out of there, going through what seemed like the crystal maze watched by a number of curious onlookers who I am sure opened a book and started taking bets on whether I had any chance of getting the van back out through the awkwardly positioned tiny exit gap! We got there in the end and let out a sigh of relief when we found the perfect parking place where we ended up staying and spending the night. It wasn't an official overnight spot but there were no signs to say it was forbidden so we got ourselves settled in and took in the view. It's been very hot, ranging from 35 to 41 every day so it was refreshing to get some cooler mountain air and breeze.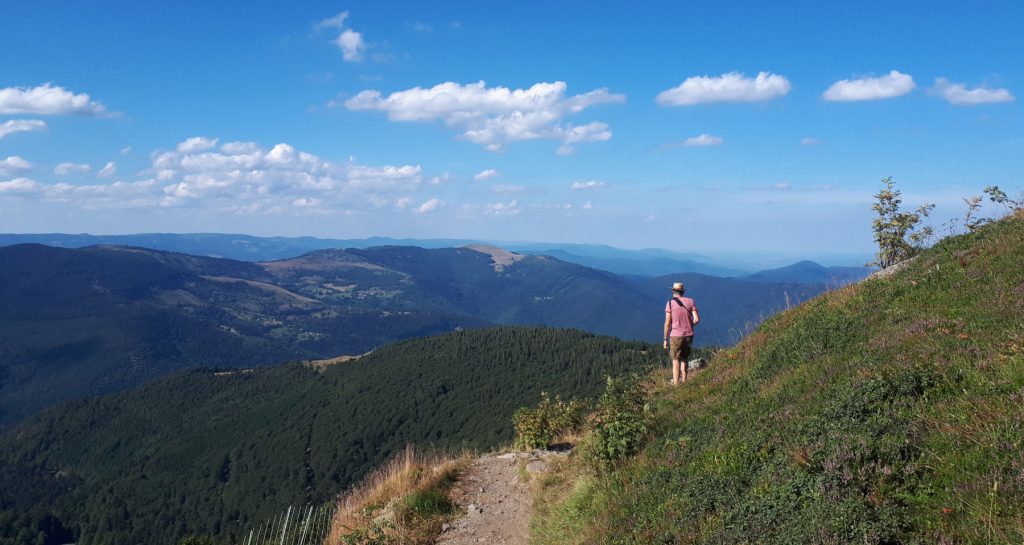 We were promised an even better view in exchange for a 45 minute hike up a stone track so we donned our trainers, grabbed a water bottle and set off on a nice hot walk to the summit. The panorama at the top didn't disappoint with far reaching views across the Vosges mountains on one side and the plains of Alsace to Germany on the other. And it only took 20 minutes to get there – we must be fitter than we thought!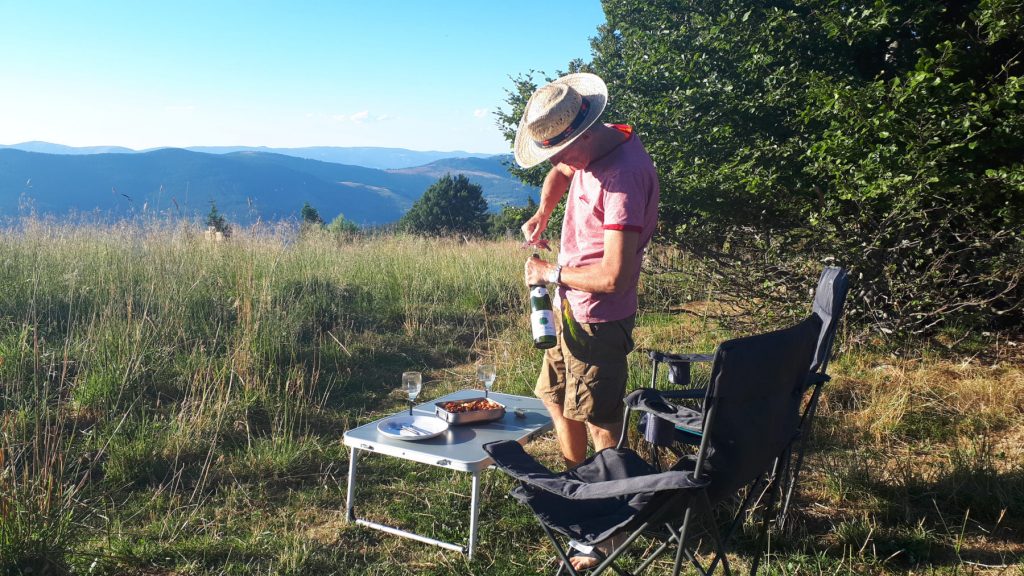 Dinner al fresco was our best yet. A delicious dinner, a bottle of Pinot Blanc and a gorgeous view enhanced later on by a fabulous orange sunset.  Life doesn't get much better.  This is the Laika life!