But wait, we've got to get to Dover first!  After a week to prepare the van, ourselves and the few days of our trip you'd have thought just getting from home to Dover to get the ferry would go without a hitch. However, that was not to be the case. Picture the scene ….
Having flustered around until late the previous evening, we got up at 5.45 am planning to leave at 6.30am giving us plenty of time for a quick cuppa, a slice of toast and a relaxed drive to Dover for the 8.25am ferry. And this is how it went.
20 minutes into the journey,
M – Did we pack all those notes, books and maps we were looking at in the living room last night?
J – No
M – Did we leave them there?
J – Yes
M – Why?
J – I don't know
M – How could we do that?
J – I don't know
M – We can't go away for weeks on end without them can we?
J – No
M – Shall we go back?
J – I don't know.
M – We'll have to go back won't we?
J – Yes, I suppose so. But we can't we'll miss the ferry.
Both – Arghhhhhhhhhhhhhhhhh
Feeling absolutely stupid and annoyed with ourselves we made the decision just in time to take the loomingly close motorway exit and headed home. Cursing, huffing and puffing unable to believe what we had done.
But it gets worse. Much worse!
We drove in and I leapt out, running to let myself in the house while Julian turned the van around. As soon as my foot landed inside the door a giant sense of dread washed over me. I ran to the living room to check and my worst fears came true. We HAD in fact packed them after all and as soon as I saw the empty spot in the living room where they had been I remembered. The very last thing we did last night just before bed was take out our laptops and the bag of maps and books to store them in the van. We didn't know where to put them so stashed them away out of sight to worry about later and for some bizarre reason neither one of us remembered doing it until that moment.
Running back to the van empty handed, shaking my head in disbelief I just got in and said 'we've already got them, let's go'. Needless to say, the onward journey was not quite the relaxed drive we had planned and consisted of both of us going over and over the scenario in our heads and trying to tell ourselves it didn't matter.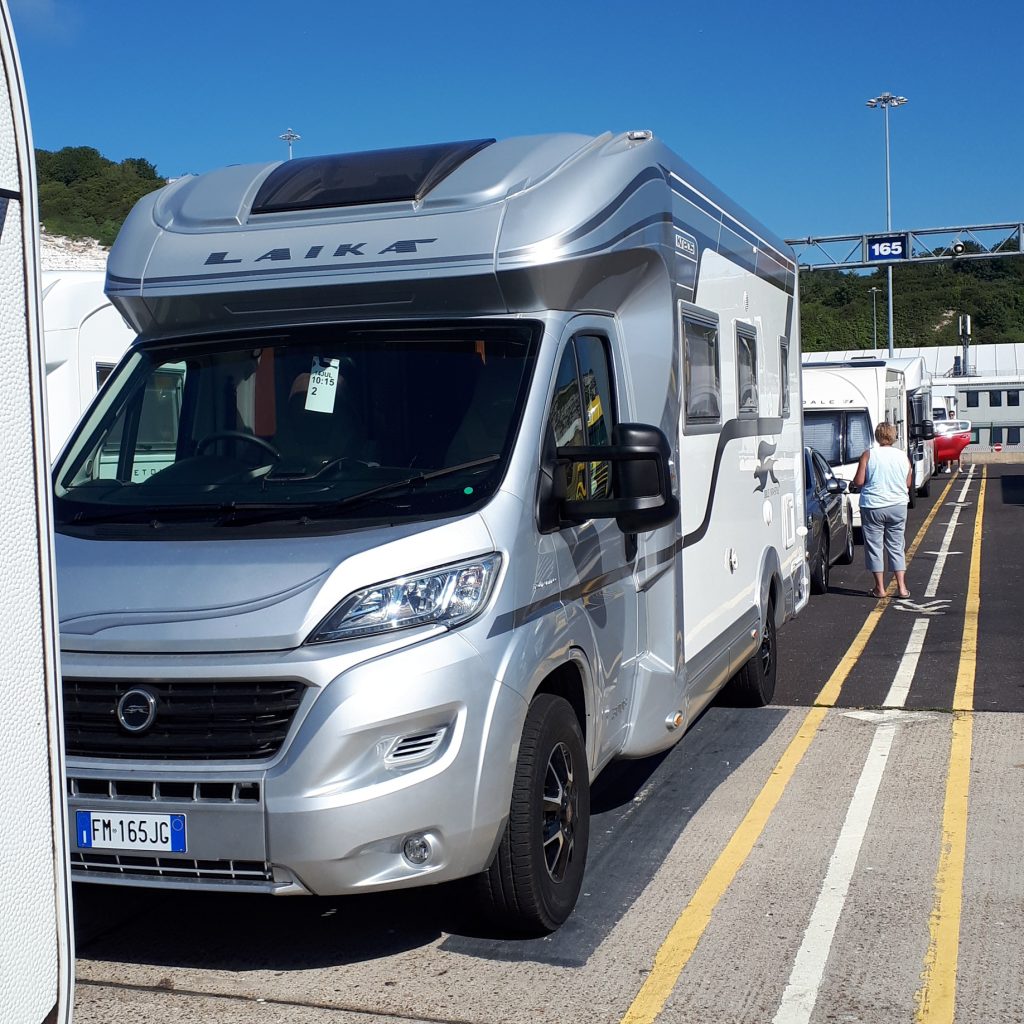 As it was all ferries were delayed by over an hour due to French security checks and we just got put on the next available one so although it didn't do our nerves much good, it was not such a disaster after all.
So, 2 hours later than expected we boarded the ferry and were on our way. I think we're going to be good at this!!