We'd been looking forward to stopping by the Laika HQ just outside Florence and seeing for ourselves the place where Buzz was made.  Nestled in a valley in San Casciano, the Laika operation moved here in 2016 seeking more space and room to expand the growing business, creating an efficient new production facility along with marketing, IT, export and design all housed together in one central base.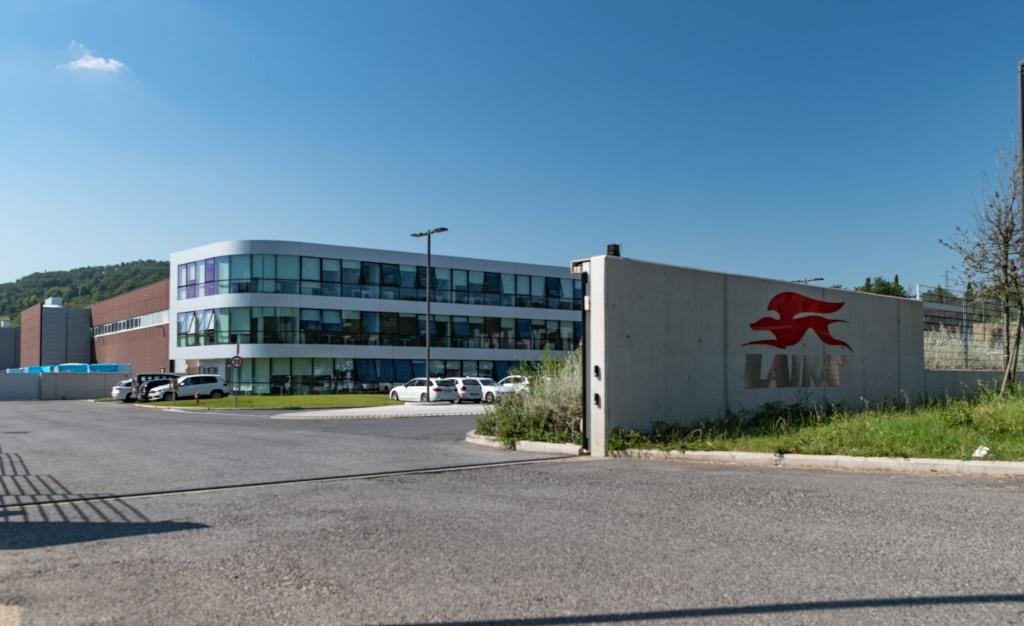 Entering reception we were immediately immersed in the slick and stylish world of the Laika brand with a bold red and white welcoming hall decked out with luxurious leather sofas where we sat to wait for our host for the day.  The friendly, smiling face of Martina Merlotti, the Export Manager, appeared before us and we were greeted with great enthusiasm before being given a guided tour around the inner workings of the whole Laika team and given fascinating insights into how they all work together to keep the wheels in motion.  Each department is inextricably linked and each is as important as the other.  Remove one cog and the wheel stops spinning.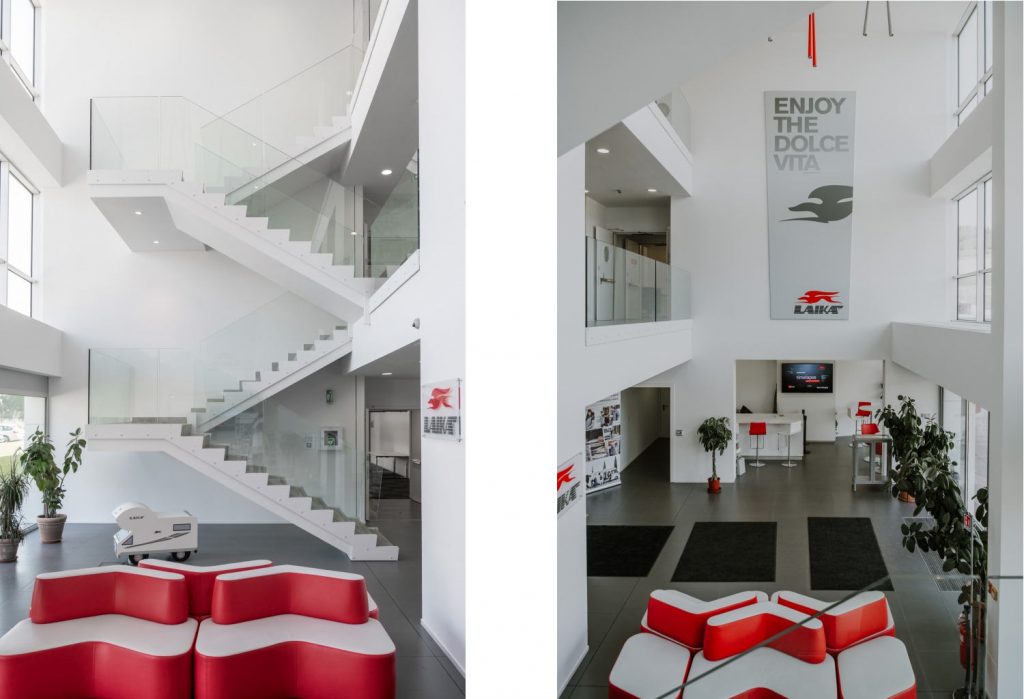 Laika motorhomes are exported throughout Europe and buyers are always keen to get their hands on them as quickly as possible, but we found out that it takes around 3 months from start to finish to construct a van of this calibre.  Out on the viewing platform overseeing the entire factory operation we were able to see for ourselves the production process from receiving of parts at one end to the finished motorhomes at the other.  Martina explained to us how each part is thoroughly checked, components are built up and the progression of the building of a vehicle as all the parts come together.   At several stages throughout the build, checks are carried out before moving on ensuring that minor faults are picked up and corrected rather than missed, causing a bigger issue further down the line.  There are two rows of vehicle production bays at the end of the factory line, each with a capacity to put together around 20 vehicles, gathering together all the parts assembled earlier and fitting them together to create the finished product.  There are many precise and detailed finishing touches that can only be done by hand to provide the luxury Laika finish, just not possible by machine and we were able to witness this first hand, seeing the care and accuracy taken to get it just right.  The quality and attention to detail was abundantly clear to see and this is reflected in Buzz, our Kreos 3008.  The Italian design flair is certainly evident throughout with top grade materials and classy fabrics creating a heightened sense of comfort and the internal layout works intuitively for superior usability.
On the factory floor everything is strictly organised to ensure its smooth running but there is no space to spare.  There are thousands of parts to a motorhome and while some spares can be kept here, there is simply not enough space to store them all.   It was quite eye-opening realising how much one simple problem can affect the whole operation.   The build process is organised like a well-oiled machine and if one stage is disrupted, for example if a supplier is late providing a part, the whole chain of events is affected having a domino effect along the whole production line causing unforeseen and unavoidable delays.  Everything has to be done in the right order, so one hold up holds everything up. A delay for one thing causes a delay for everything.
Quality can't be rushed and while we all want what we want as soon as possible we would rather receive it done well with precision and care than rushed to meet a deadline.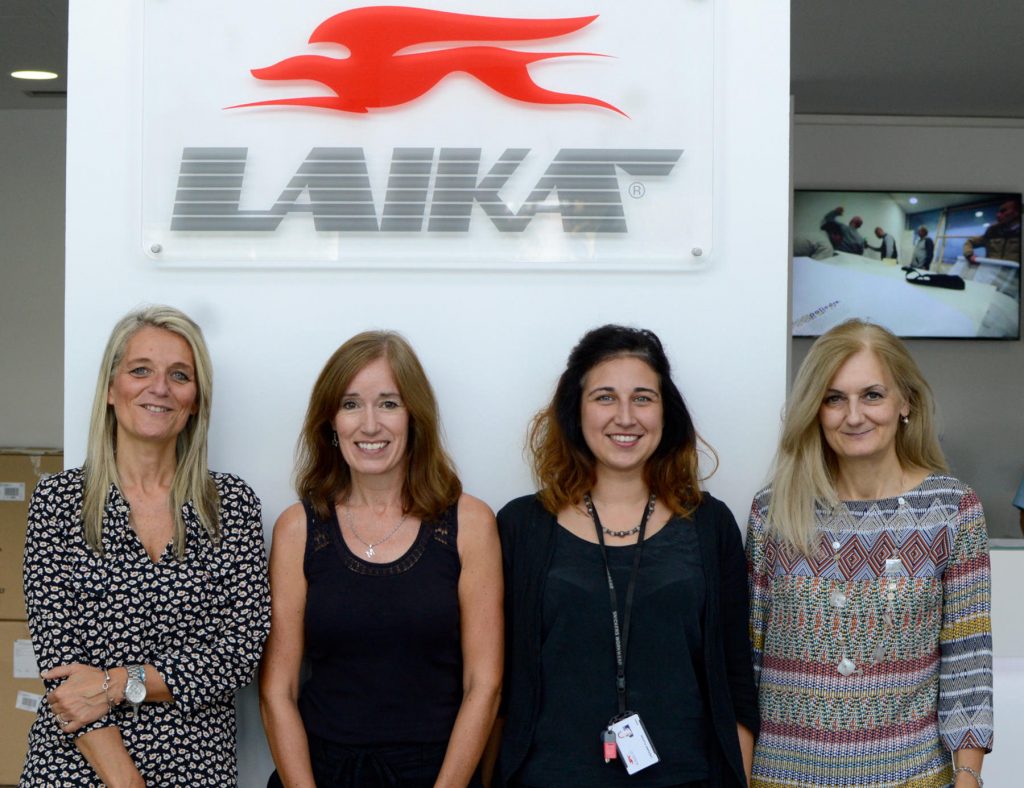 After our tour we were joined for lunch by Anna-Marie and Martina from the marketing team who were as keen to hear about our motorhome travels as we were their life at Laika.  Anna-Maria told us that working at Laika was like being surrounded by one big family – a happy, sociable place to work where everyone is content in their jobs and proud to work for a prestigious company – so much easier when you know your product is the best it can be.  We left the lunch room absolutely full to the brim having sampled just about everything on the menu from pappa al pomodoro (tomato and bread soup) and pasta ragu to a kind of creamy vanilla pudding – all washed down with a tiny espresso.  When asked if we would like a coffee before we left, we looked to each other before answering and were quickly informed that 'in Italy there's always time for coffee!'
The whole Laika ethos is really about caring for the customer, exceeding their expectations and providing a superior, quality product. The Laika life is all about comfort, freedom, security and high standards and when you've got all that you really are enjoying the Dolce Vita!