It was late afternoon by the time we reached our parking spot for visiting Cadiz town.  After a bit of online searching we found some good reviews for motorhome parking with services on the seafront at Cortadura. It was right by the seafront and we again enjoyed a beautiful sunset. It was by a busy road but described as 'not noisy'. We wouldn't entirely agree with that but road noise turned out not to be the problem.  By the evening we were aware that it was getting increasingly blustery but it wasn't until we had turned off our music and got into bed that we noticed the sound of our bike cover flapping furiously around right behind our heads.  We tried our best to ignore it but it soon became obvious it would be hard to sleep if it carried on all night.  After a few hints and suggestions on my part that maybe 'we' could tie it down with something, Julian reluctantly but valiantly dragged himself out of our warm, cosy bed outside into the howling wind to deal with it which was an instant relief for both of us.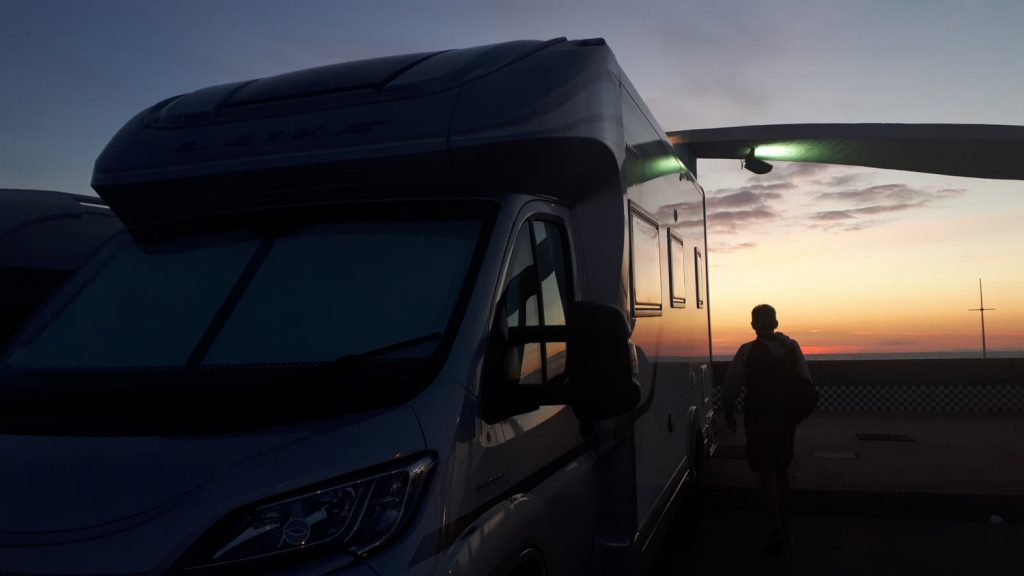 In the morning we had breakfast in the motorhome then took the No1 bus a few stops into the centre of town getting off at the Plaza de Espana.  Cadiz itself sits on a narrow peninsula almost completely surrounded by water so has some nice, bracing waterfront walks with views over the bay.  Known as Europe's oldest, continually inhabited city, the most captivating part is the charismatic old quarter with its narrow streets, tall buildings, wide plazas and attractive monuments.  While standing looking confused about which way to go a helpful Spanish lady tried to talk to us speaking ten to the dozen as the Spaniards do. Despite several 'no comprendo's she carried on talking regardless and in the end we had to just politely walk away as she didn't seem to want to stop.  Afterwards we found a cafe in the sun and sat for a while overlooking one of the town squares and marketplace  soaking up some rays before popping into the Museum of Cadiz. It's a free museum and no doubt quite interesting but as it was virtually all in Spanish we weren't entirely sure what we were looking at!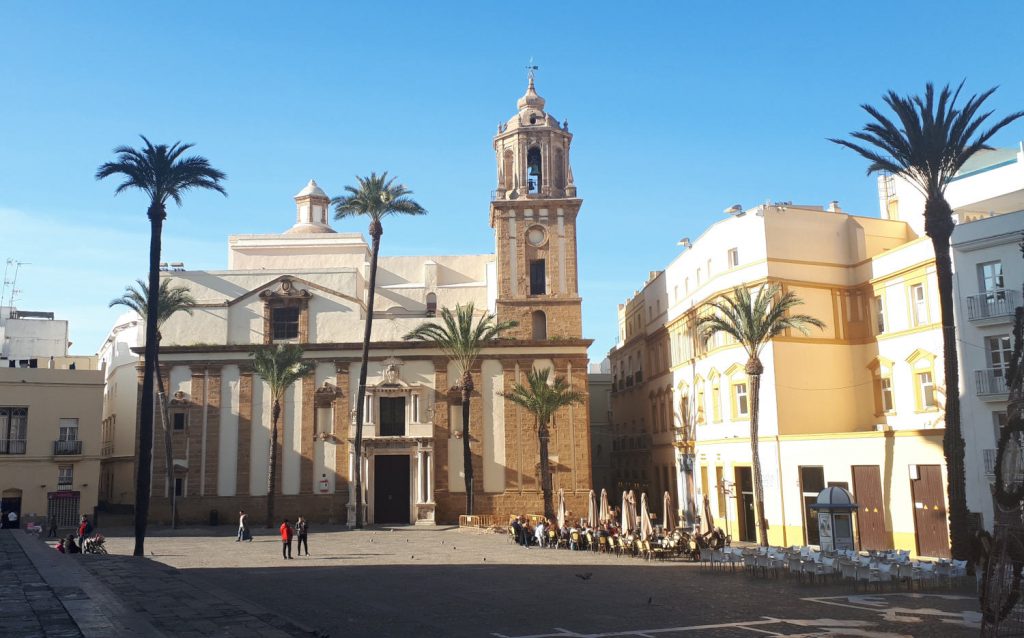 Staying in the Cadiz province, our next stop was in Medina Sidonia, a whitewashed town that we liked straight away. We popped into the Pasteleria de Santa Rita, one of those churches with a hatch where the nuns make cakes. Unfortunately the shop was closed and we had to make do with peering at the pastries through some iron bars.  We didn't let the town's hilly streets put us off and walked up to the castle ruins at the top which were also closed!  We got some far reaching views though and could almost spot the motorhome parked down in the car park below.  The town has a big old gothic church with massive wooden doors and a very weathered finish, which although shabby is authentic and made a nice change from seeing something completely renovated.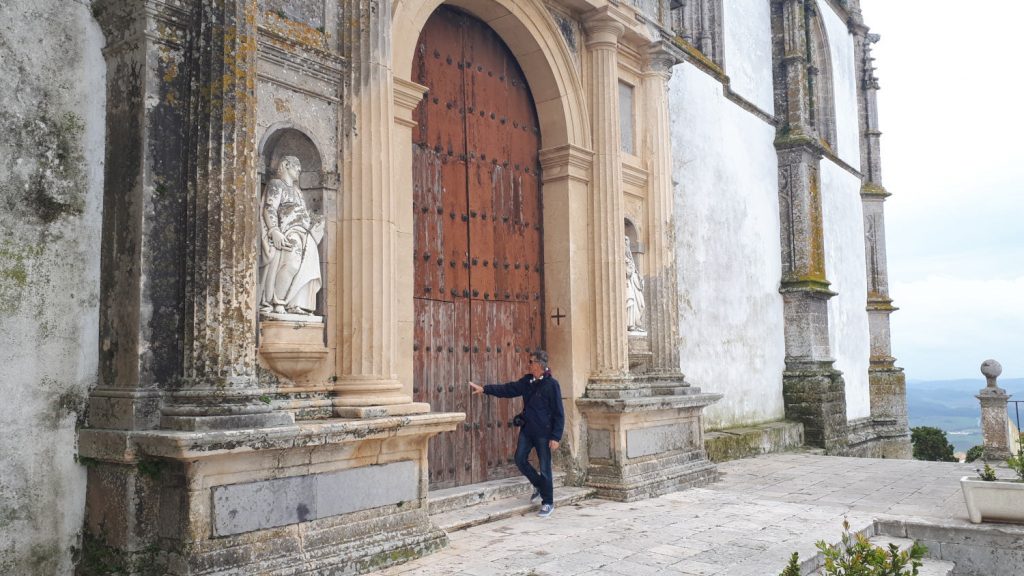 We carried on wandering around looking for the town's 3 original Moorish arches, the Pastora, Belen and Puerta del Sol and just as we found the Pastora gate there was a sudden downpour. I instantly regretted my earlier decision to take my hood off my coat and unsurprisingly ended up completely drenched.  The streets are cobbled and steep with a polished finish where so many cars and people have walked over them so there is no way you can rush in the rain. We just had to slowly and gingerly make our way back down the hills until the welcoming, dry sight of Buzz welcomed us back.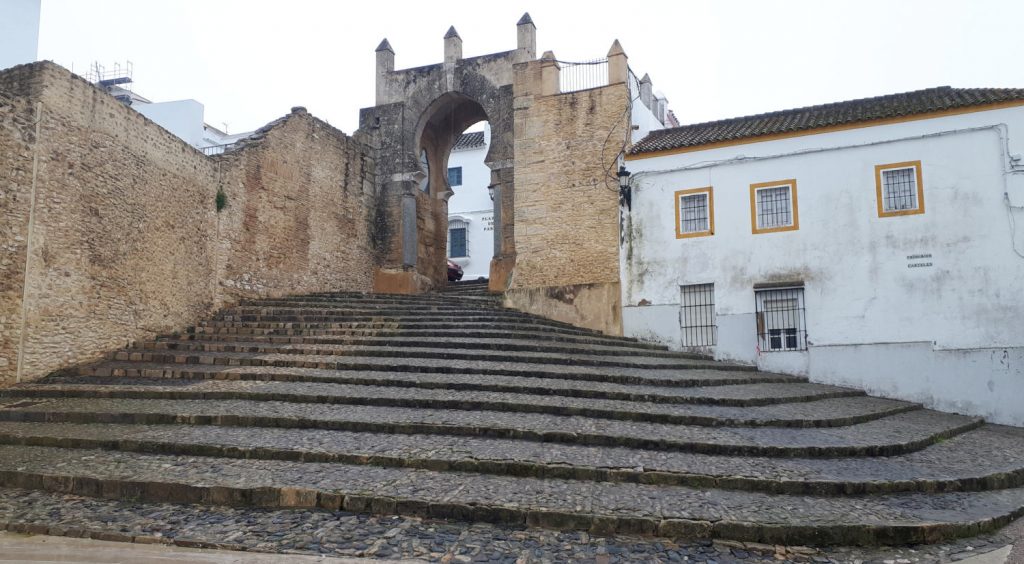 After a warming brew we made the decision to drive up to El Bosque. We needed to take on water and empty the cassette and grey water tank but there weren't any services closer so was a bit of a drive. In one way it was a good thing because we needed to charge up the leisure battery as well as our laptops and a longer drive would allow us to do that.  The weather hadn't improved either so off we went.  The motorhome services in El Bosque are right next to the old bull ring which is apparently now a nightclub. Being a Saturday we were a bit concerned about staying the night there but as it was it didn't seem to be open so not a problem.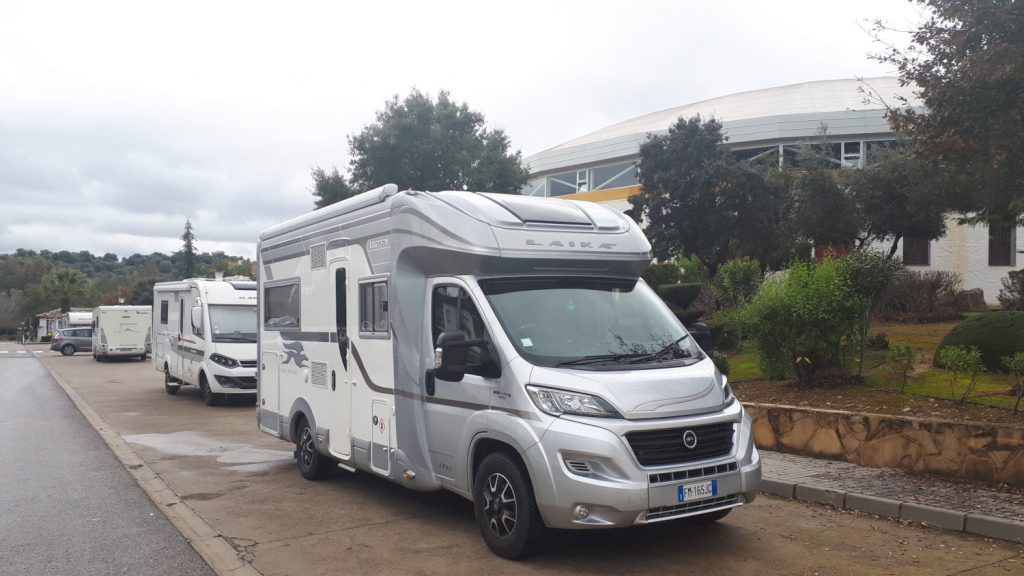 When we drove in we had seen a small circular cobbled cul de sac surrounded by cafes and restaurants all arranged around an old water wheel and decided to treat ourselves to a night out. Not wanting to be too early though, as the Spanish don't tend to eat til quite late, we sat it out in the motorhome for a while, just having a few crisps and an aperitif before going out at about 8pm.  There were several places from a small tapas bar which was a bit empty, a little cafe with loud music and a couple of other restaurants. We chose the Casa Calvillo which looked quite quaint and cosy and had a few people inside already, although one by one they gradually left. Finally after waiting patiently, polishing off 3 drinks and a bowl of olives a family came in and started ordering food. Feeling particularly peckish by now we immediately ordered our own meal only to find that the family just had a small snack and then left, leaving us eating alone after all!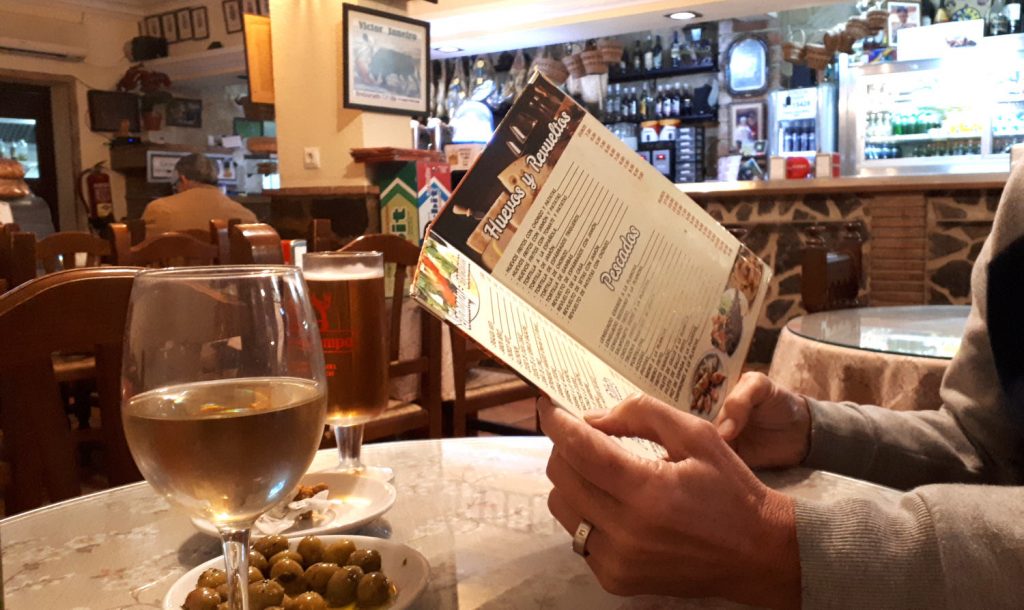 The next day something online popped up telling us it was Cheese Lovers' Day. As cheese lovers ourselves (one particularly!) and not needing any more of an excuse, we were pleased to discover we were actually just 3 minutes walk away from an award winning cheese shop. Not only that but it had a little cheese museum inside and an informative little film to watch too.  The shop, El Bosqueno, has only been run since 1986 but has won numerous national, international and even World cheese competitions. After several samplings we went back to Buzz with two winning goat's cheeses, one an aged Pimente cheese with olive oil and hot pepper, winner of Super Gold in the World Cheese Awards, and the other an aged, hard goat's cheese, the winner of 4 international awards.  The cheeses are made with the milk of the endangered Payoya goats who roam freely in the Sierra de Grazalema National Park. It is only the use of their milk for production of goat's cheese that ensures the breed continues to develop and is maintained.  Before leaving we popped into a little deli, Abaceria de Julian,  for some bread to go with the cheese and left with a thickly sliced loaf which felt more like a brick than a loaf.  You can't pass by a shop with your name on the front and not go in and buy something!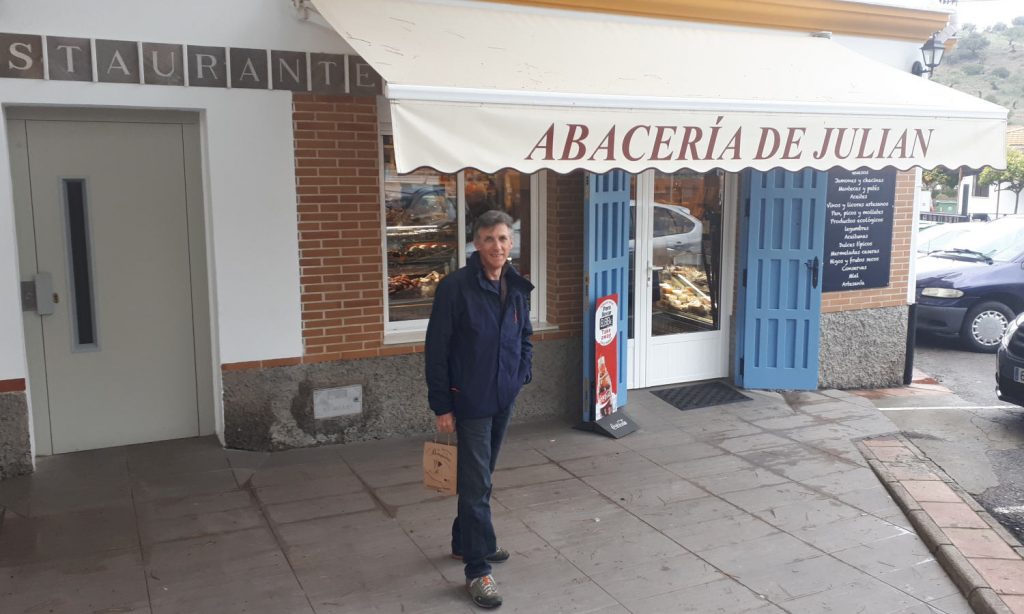 We moved on next to one of Cadiz's typical white towns, Acros de la Frontera. There are a lot of free parking areas on the edges of the lower town so when we saw a couple of other motorhomes parked up we joined them.  As soon as we stepped out we could hear loud, booming music coming from down the street.  It seemed out of place being lunchtime on a Sunday and we came around the corner expecting to see a load of youngsters having a party. But no, there was just a little stage, a couple of stalls, an enormous pan of paella and in the centre a little dog competition going on.  From there we could see the castle at the top of the hill and started the slow trudge up the town's hills towards it, still hearing the booming voice of the judge about half a mile away! The streets sloped steeper and steeper as we got to the top of the town, some so narrow it seemed impossible they could be two way but they were. You would never want to attempt to bring a motorhome up here. If you did you would have to leave it there!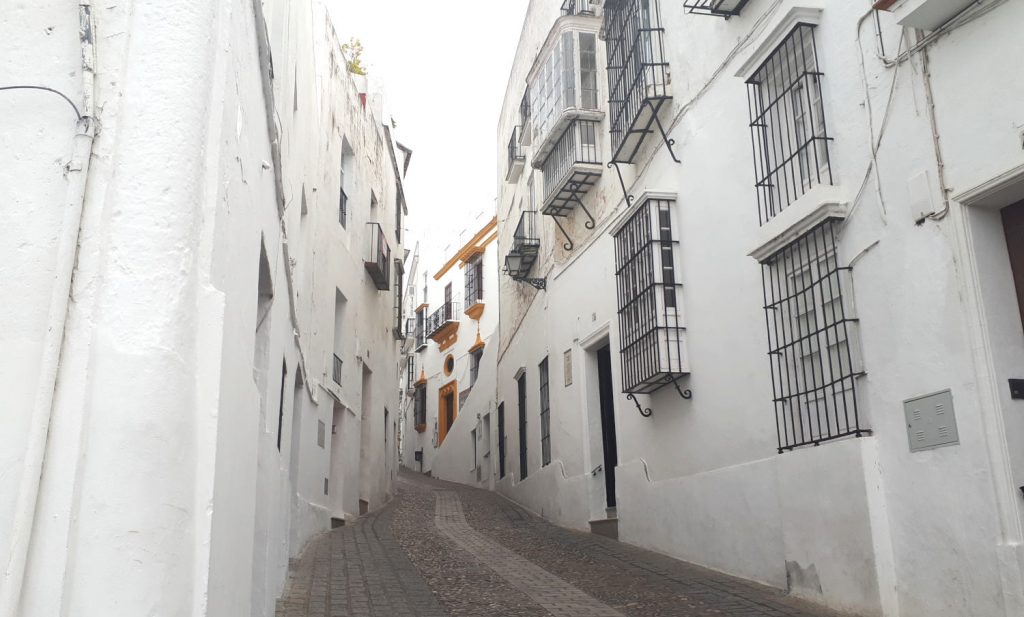 At the top there's a large Basilica facing a spacious plaza with a white painted archway leading to a picturesque panoramic terrace overlooking the Guadalete river valley, orchards and famlands. The town was quite dilapidated in parts yet again but with lots of appeal and character too.  Whitewashed but with bright pops of colour here and there, there was lots to like about it.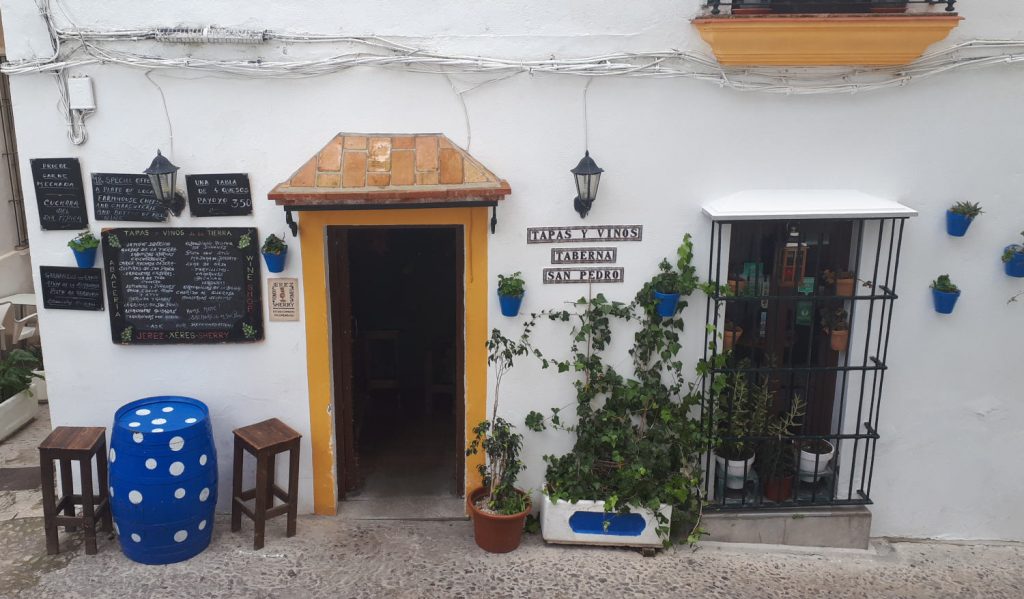 We spent the night here parked in the same spot as it seemed quite peaceful and several other vans were still there for the evening. We did have a peaceful night except for the bin lorry coming round at some ridiculously early hour rattling around with the bins, but apart from that it was fine. Next morning we got up with no idea where we were going next which is one of the things we love most about motorhoming.  No plans required until we're ready to go!  Time for a few cups of coffee, a check of the weather forecast and a look at the map ……