Our long anticipated visit to the vast, watery wetlands of the Camargue was hampered by just one thing – the weather forecast. Would it just be a watery washout?  Several days of rain, blustery wind and grey skies were due but we had an appointment to keep (more on that later) and it was now or never.  We would just have to get the wet weather gear out and hope for the best.  One of the most important wetlands in the whole of Europe, the Camargue is a unique environment, a nesting ground for flamingos, home to hundreds of species of birds and wildlife and covered by rich and varied vegetation.  Listed on no less than three UNESCO World Heritage lists there was no way we were going to miss it.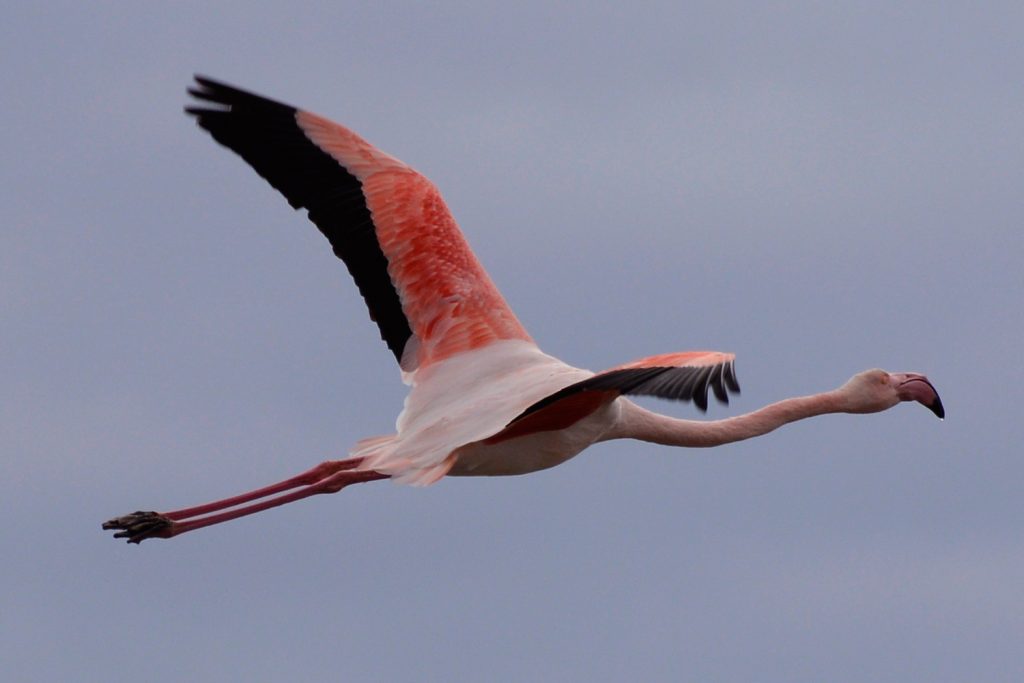 A need for electricity and a failed attempt to find it had led us to travel further than we had intended and we actually ended up in the coastal town Villeneuve les Maguelone in the Camargue a couple of days earlier than first planned, finding a good motorhome aire with all the facilities we needed. Travelling past marshy fields and murky waters on the way there, our disappointment at the lack of sun increased, knowing how beautiful it would look under a blue sky.  Shortly after arriving the rain started hammering down harder, the biting cold wind howled and rocked the motorhome from side to side and the heating went on.  We'd heard tales about the Mistral, the infamous strong, cold, northwesterly wind that whips bitterly through the region but is accompanied by clear skies but this was different and couldn't be more cloudy and wet.   On the first night a horrible clattering noise led to an investigation out of the roof window again and Julian discovered that our awning wasn't quite fully wound in and the end was flapping around furiously.  Donning his not very waterproof jacket he valiantly ventured outside, grappled about in the garage for the awning winder, wound in the awning and came back in utterly drenched and dripping!  Some time later, cosy and warm as we were this wasn't what we came for and we sheltered inside, comforting ourselves with silly games, the last DVD of our box set, plenty of food and more than a glass or two of wine for two whole days.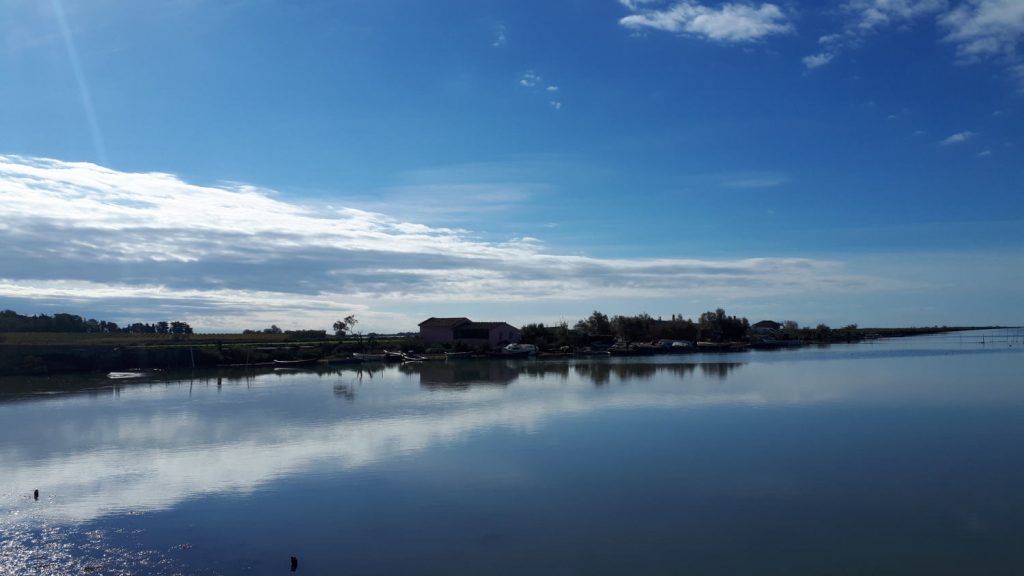 On the third morning we woke up to calm skies, weak sun rays streaking through thin clouds and just a light, cool breeze. By 10am it was still only 11°C but it was dry and we were so relieved.  We knew there was a cycle path just outside the aire, winding through the delta towards the coast so the coats went on and the bikes came off and within minutes we saw dozens of pink flamingos getting our first real taste of the wild nature we had come to see.  A beautiful sight, the flamingos, stood in groups on impossibly tall, thin legs, their wings a pale marshmallow pink.  Every now and then they would preen themselves, lifting their wings to reveal the spectacular dark salmon and black feathers beneath.  Flamingos can live for up to 60 years which is quite incredible.   The salty waters of the Etang de l'Arnel were glistening and blue, the tall legged wading birds standing and feeding gracefully within them.  A handful of handsome, sturdy Camargue horses grazed nearby but seemingly in an enclosed area, not of the wild and roaming free variety.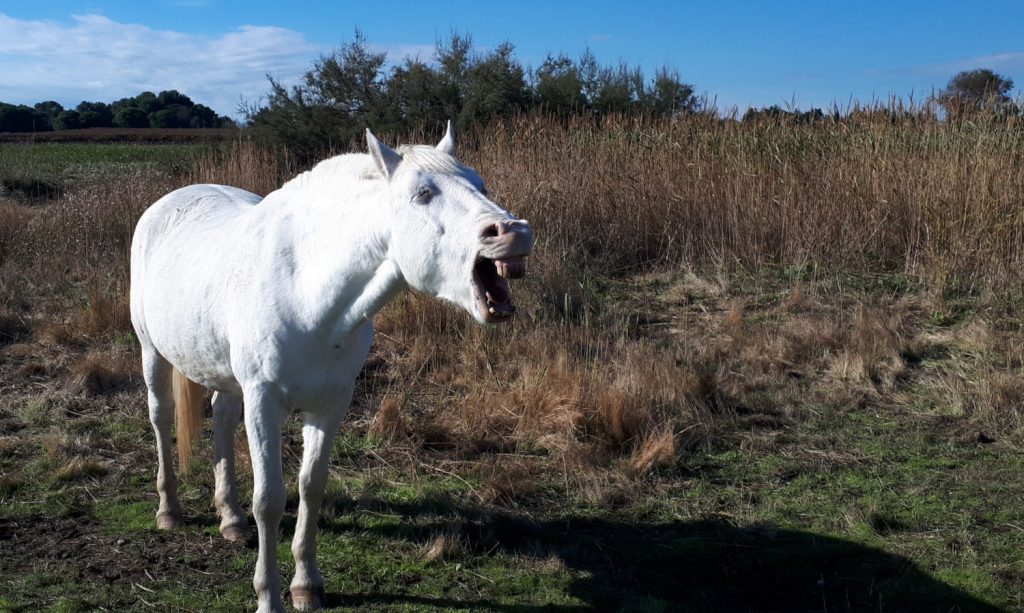 Cycling further we were astonished to find vineyards right up against the marshy waters. Having travelled up and down France and Italy we have seen plenty of vineyards over the last few months, some on the hills, some in the valleys,  but none so extraordinary as these.  We later found out that the Sable wines produced here in the sandy ground, surrounded by lagoons and sea water have a unique freshness, character and mineral complexity. The sea breezes, high rainfall and unusual terroir leading to some exceptional wine.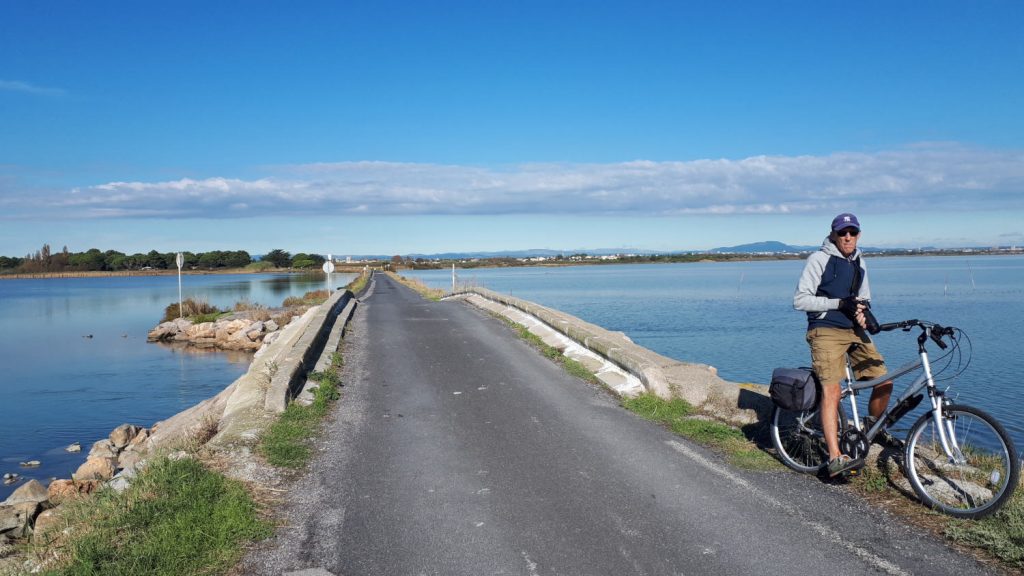 A narrow causeway ahead led us to a small footbridge over the Canal du Rhône à Sète and onto a small leafy peninsula, home to the Saint-Pierre de Maguelone Cathedral, surrounded by water and vineyards and once a fortress and bishop's palace.  The church looked rather unassuming from the outside but inside the atmosphere came alive with warming yellow light and the haunting chant of a woman standing on the upper floor, showing off the perfect acoustics, filling the whole building with her voice and simple percussion instrument. Tearing ourselves away we went back out and cycled along the canal, spotting fleeting glimpses of birds overhead or flying out of the undergrowth as we distburbed them.  It wasn't long before we found the clouds coming over again, the wind strengthening and the temperature dropping.  Feeling glad we had made the most of the best part of the day we made our way back to the warmth of the motorhome and stayed there until the next day.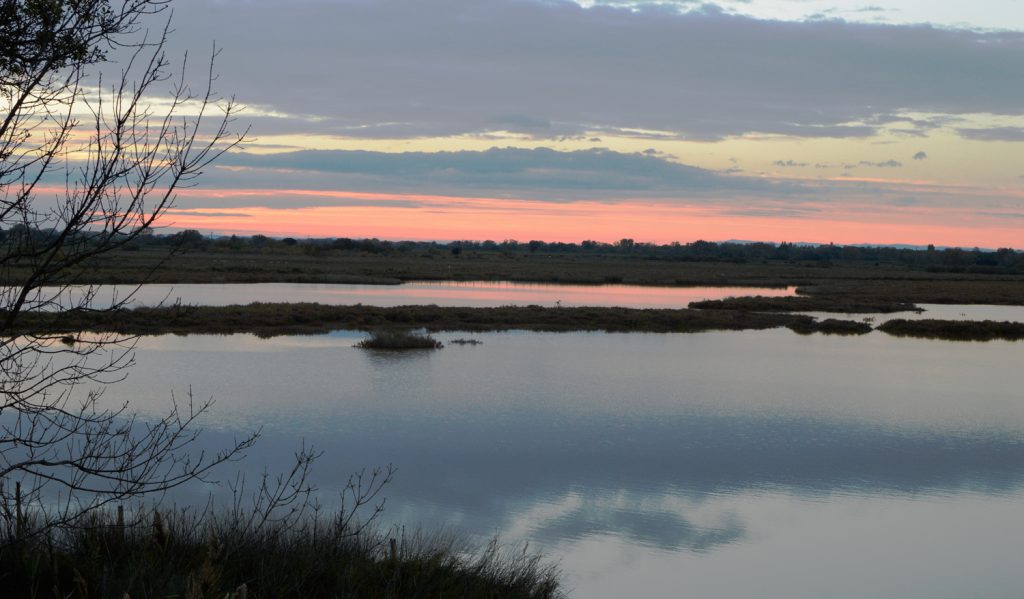 Deciding to move on, we travelled the short distance to another aire in the old fishing village of Le Grau du Roi on the shores of the Camargue with 18km of seemingly never ending sandy beaches, driving past groups of black cormorants on the salt flats and more flamingos wading in the shallow waters. Inhabited since 1850 with a long fishing tradition the waterway and port are packed with traditional fishing boats and trawlers and is in fact the second largest fishing port in the Mediterranean. The picturesque streets either side are lined with seafood restaurants offering up the freshest fish and latest catches which are brought up the alongside the quai and into the port when the old swing bridge opens up every afternoon. There is a charming feel about this place with fishermen going about their business, nets sprawled out and boats rumbling along. The town itself was very busy, with a market-town feel and quite remarkable in that all the shops seemed to be open for business in the middle of the day – a very unusual sight when in France! Ambling along we came across a stand offering horse-riding experiences in nearby Espiguette with L'Ecurie des Dunes, a wild coastal area with long stretches of sand dunes, lagoons and salty scrub. We had been planning to book a ride but had been concerned about the weather but now the skies seemed to have cleared and the opportunity was right in front of us we decided to take a chance and book it. As we got chatting to the Frenchman conversing in his best stilted English and us in our best (ie very bad) French he offered us an hour long ride through the Espiguette wetlands the next morning so we booked it and kept our fingers crossed it would stay dry.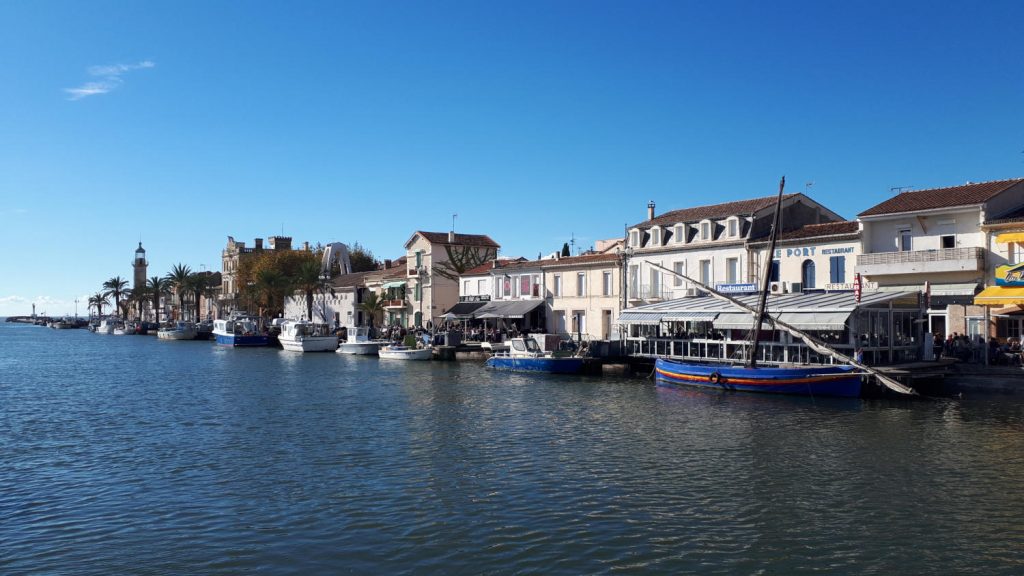 Next morning we woke to drizzle and more grey sky with only 2 hours until our booked horse ride. Disappointed, we again piled on layers, long trousers, trainers and waterproof jackets and set off to meet our mounts! We were both excited and looking forward to it for different reasons. Julian because it would be his first ever horse-riding experience and myself because as a horse-mad teenager I had ridden many times and still have a big love of horses but have not ridden much for many years. First things first was to get ourselves kitted out with a brightly coloured helmet, fitted fetchingly over a white stretchy hairnet, finishing off the day's outfit very nicely! Next we were taken to the yard where the horses were waiting and eyed up and down by our host trying to work out a good match of horse and rider. I was given Enjay, a pretty 12 year old spotted gelding with 'a little bit of Camargue' in him and Julian was assigned Oisay who was 10, a bit taller and sturdier and 50% Camargue. Annoyingly Julian managed to mount his horse like a pro, while I the experienced rider, nearly toppled off the front, surprised at the downward leaning angle of the saddle! Once aboard we were left to our own devices while the other riders got themselves sorted and both horses knew exactly where they were going, heading straight for a big pile of hay bales that no amount of steering or rein pulling was going to tear them away from! Eventually our group of 8 was ready, the drizzle stopped and the sun showed its face and as we left the yard in a long line one after the other a grin came across my face and didn't leave until long after I got back.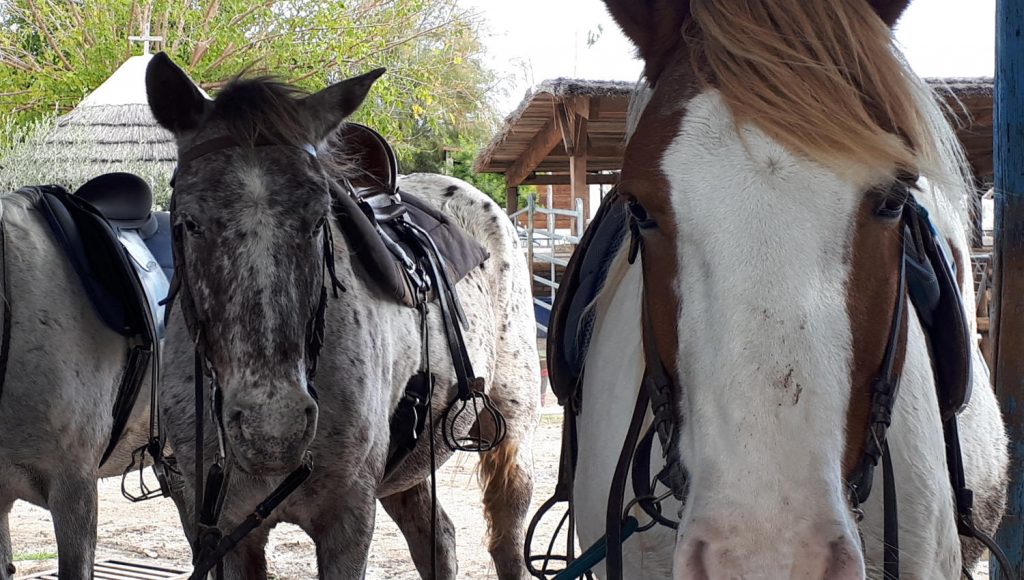 Splashing through the wetlands on horseback is something I will never forget, experiencing a unique environment on a horse up to his knees in water, marshes stretching into the distance and surrounded by such vast, natural beauty was just magical. We were treated to the sight of dozens of pink flamingos, wading birds, herons and grazing Camargue horses. Our leader, Matches, chatted to us as we rode along the reed beds, telling us about the edible vegetation and plant life, the nearby salt lakes and the many types of birds you can spot if you have the time and patience. It wasn't the most exciting ride of my life as we didn't exceed a walking pace but it was definitely the most unique, and one of the most memorable, reminding me of why I used to love it so much. We would both love to come back here at a warmer time of year and spend a couple of weeks exploring properly, getting back on the horses and learning what more the Camargue has to offer.
Note – regretfully we did not take any photos during the ride and left our cameras in the motorhome. Having already smashed a phone, broken or damaged 2 camera lenses we couldn't risk also dropping one of them into the water!