Over the last few days we've toured the Tuscan countryside discovering sublime scenery and extraordinary towns along the way and we'll be posting about these over the next few days. It's been a wonderful place to explore but we felt it was time to put the foot on the brakes for a couple of days, stop to just sit, relax and enjoy our surroundings for a while instead of thinking about where to go next. We've been moving from place to place fairly quickly, keen to squeeze in as many places as possible but now and again it's nice to slow the pace. We found the perfect place to stop in our ACSI campsite book – the Principina a Mare, set in a pine forest just outside Grosseto. It's quite a large site but as it's the end of the season and they are closing up at the end of September it was virtually empty with just a handful of motorhomers on site. As such, we got our pick of the pitches and chose a large, flat bay amongst the pine trees with an ideal combination of dappled shade and warm sun.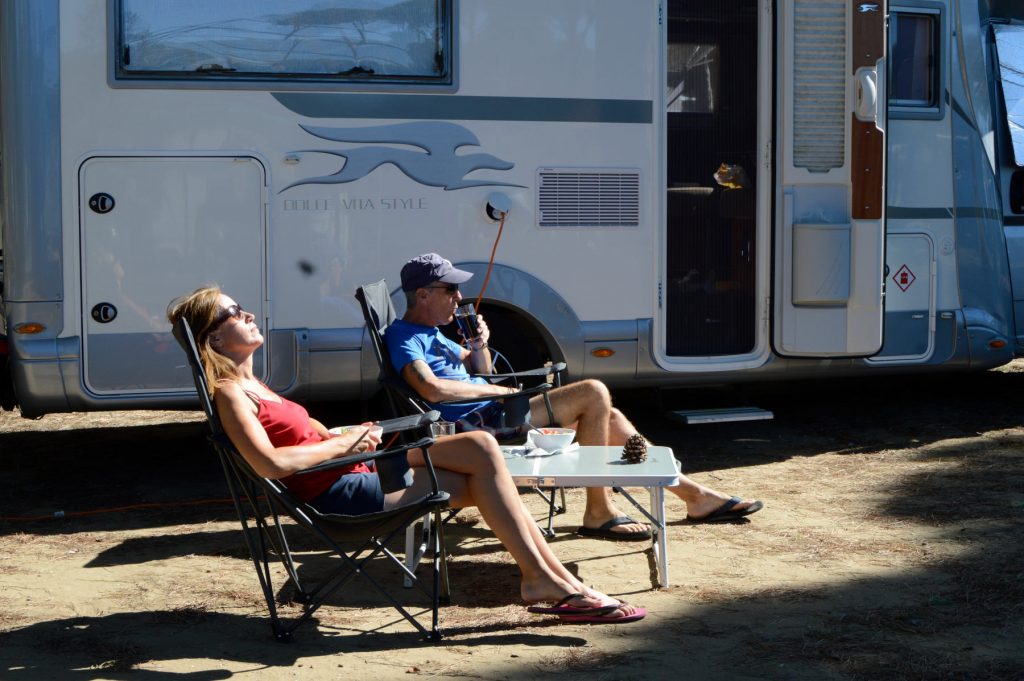 Wasting no time in putting the kettle on and setting out the table and chairs, we made ourselves at home and relaxed with a cuppa and a couple of hours reading in the warm afternoon glow. After that it was Vermouth and tonic time with fresh pasta for dinner and a rare session in front of the TV catching up on the finale of 24 which we've been meaning to watch for the last year or so!
The two previous nights in the Tuscan hills were pretty blustery with Buzz being blown side to side by fierce gusts of wind for hours on end and neither of us getting a great deal of sleep. Our first night on the campsite was the complete opposite with almost complete silence and such a peaceful night we didn't wake up until 9.30am the next day. Getting up and enjoying a leisurely breakfast of tea and toast in the morning with the sun peeping through the pine trees was the perfect start to the day.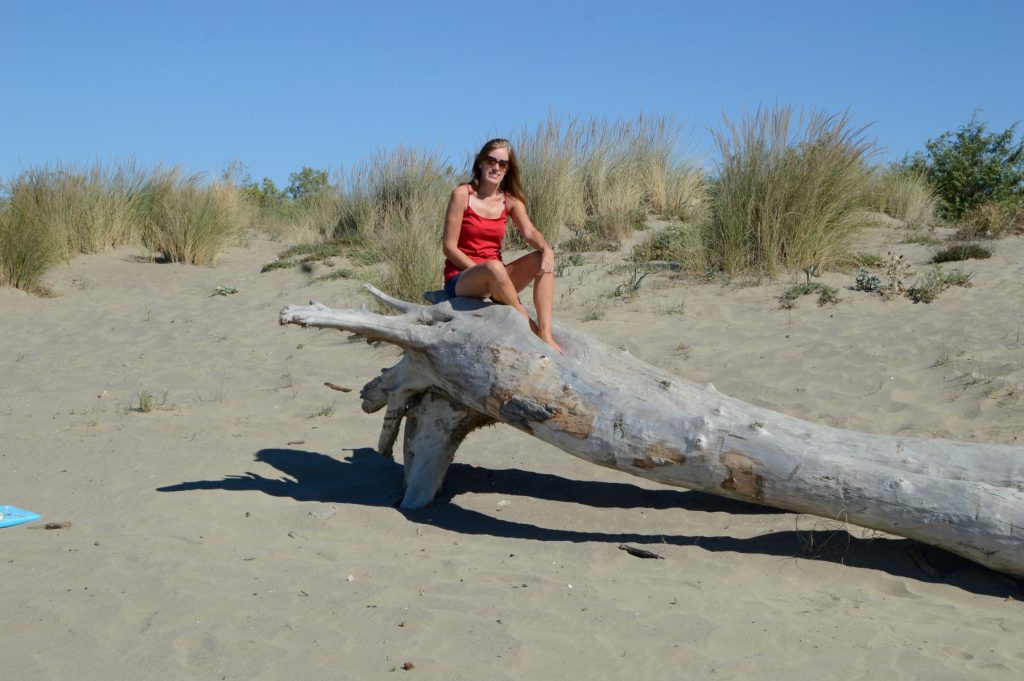 With the promise of a sandy beach just 1km away we made a flask of coffee, grabbed our biscuits, books and beach towels and set off on our bikes down the wooded sandy track, covered in pine needles, leading to the coast. For the first time since crossing the English channel 10 weeks ago we saw the sea – a beautiful blue glittering sea, and a long, virtually empty sandy beach. We made ourselves comfortable on the beach beds and started soaking up the sun, Julian announcing that he was 'definitely going in the sea' when he got hot………. once we got hot we sauntered down to the sea shore and the water looked refreshing and enticing, but all it took was a single toe in the surprisingly cold water for Julian to change his mind about a swim and decide that a walk along the shore would be a much better idea!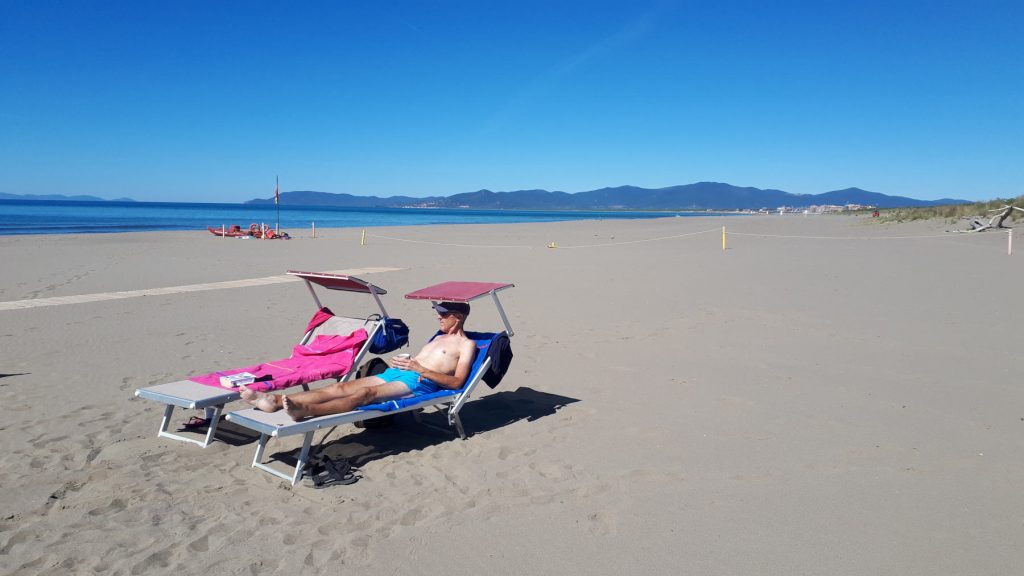 Staying in one spot for a while has given us time to reflect on our motorhome journey and how it has given us a new perspective on travelling. We used to think of travel and holidays in terms of getting a flight somewhere, having a 1 or 2 week holiday in a fixed destination then coming home again.   Then, if we were lucky, we would book up in advance and do the same thing again the next year.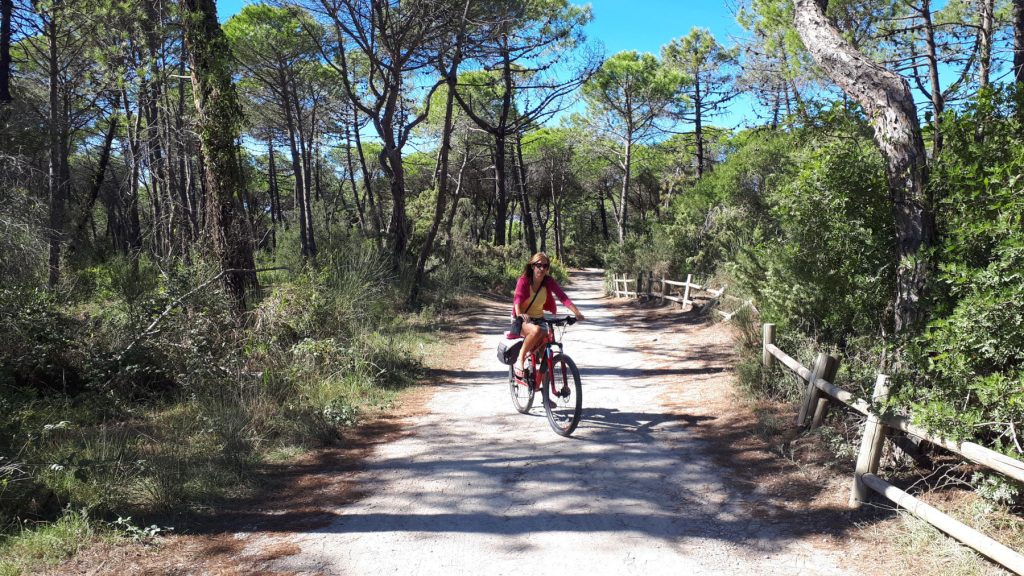 With a motorhome you don't have to book anything, pay for anything, wait or plan, you're completely in control and just go when you want.  If you wake up one day and decide you want to go somewhere you can just go – no arrangements to make, no organising flights, no hassle and it doesn't matter whether you've got a day, a weekend, a week or a month.  You might be going to the next town, the next county or over the sea, the world is your oyster and you can travel as far as you care to throw your net.  If you get somewhere and for some reason and want (unlikely!) or need to go home early you can.   If you get somewhere and love it and want to stay longer you can. After all, you have everything you need with you already.  Everything's possible!