Something lured us towards Reims next. Can't think what. It's only famous for Champagne and cake! As the city of Champagne how much fun could it be? We decided we'd better drive over there and find out for ourselves.  Champagne aside it's a place of heritage, ancient history and beautiful art deco facades.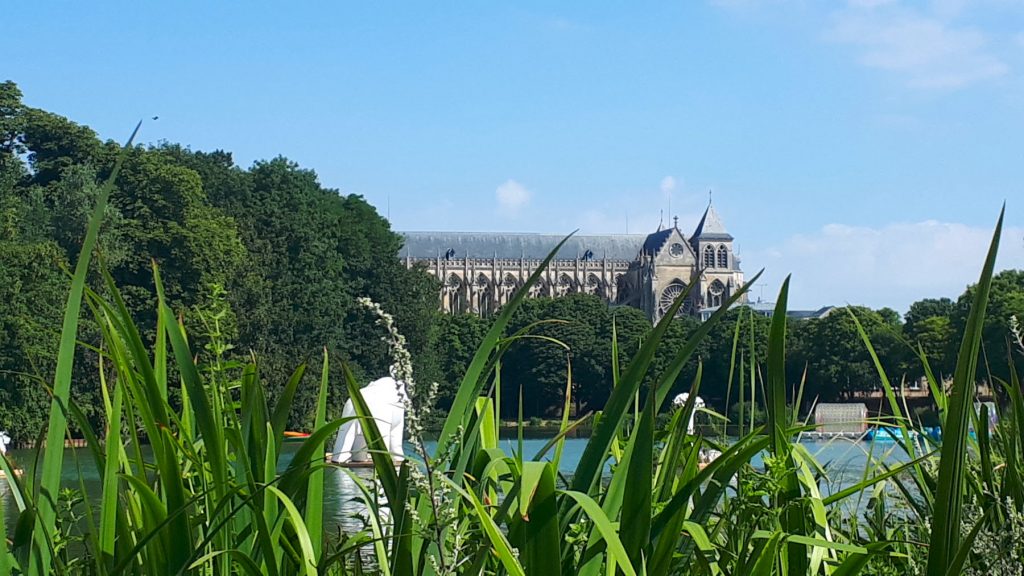 The area between Reims, Epernay and Chalons-en-Champagne is known as the sacred triangle and is packed with around 260 Champagne houses, some large and prestigious, others small, private family wineries. The gently undulating hillsides are green with flourishing vines and even gardens of small private houses are planted out as mini vineyards.  Imagine making your own champagne from vines growing in your own back garden!
Historic buildings are also plentiful and no visit to Reims would be complete without a visit to the monumental Unesco World Heritage listed site of the Notre Dame Reims Cathedral. Set in a leafy square this is one of Europe's most important Gothic structures. This majestic building has seen the coronation of 25 kings, in fact every one of France's kings since the 11th century. Its giant interior and mesmerisingly high vaulted ceiling provided a few cool minutes respite from the French midday sun as did the cool beer to follow. Yes I know we're in Champagne but you can't beat a beer in the sun (the Champagne came later)!
There's one more thing Reims is famous for and that is Le Biscuit Rose De Reims. Dating from the 1690s and created by the bakers of Champagne, these pink pillowy biscuit are similar to trifle sponges.  Eponymous with the region, these little sweet treats are served with aperitifs or as part of a dessert. The biscuits are flavoured with vanilla (not rose) and in the days when these were created, the only vanilla available turned the dough grey – not very attractive. So red colouring (carmine) was added and the Rose de Reims biscuits were born.
After Reims, we made our way to Epernay and parked Buzz on the appropriately named 'Rue Dom Perignon' a fine place to leave our fine motorhome!  We walked the short distance to one of the most famous streets in the world – The Avenue de Champagne. Lined with mock renaissance mansions housing famous champagne houses this is the place to come for a champagne tasting with glasses from 7 euros and degustation tasting menus from 20 euros. The Avenue stretches for 1 mile and there is literally nothing else here except for Champagne producers, caves and tasting rooms.  The most extensive champagne house is Moet & Chandon with cellars stretching 18 miles underground.  There are in fact 10s of millions of bottles stored in the underground cellars beneath the Saint-Nicaise hillside.   Not a bad place to get lost in!   Early the next morning we took the road up to Mount Bernon to the viewpoint where you can get just a glimpse really of some of the many vinyeards covering the sloping landscape.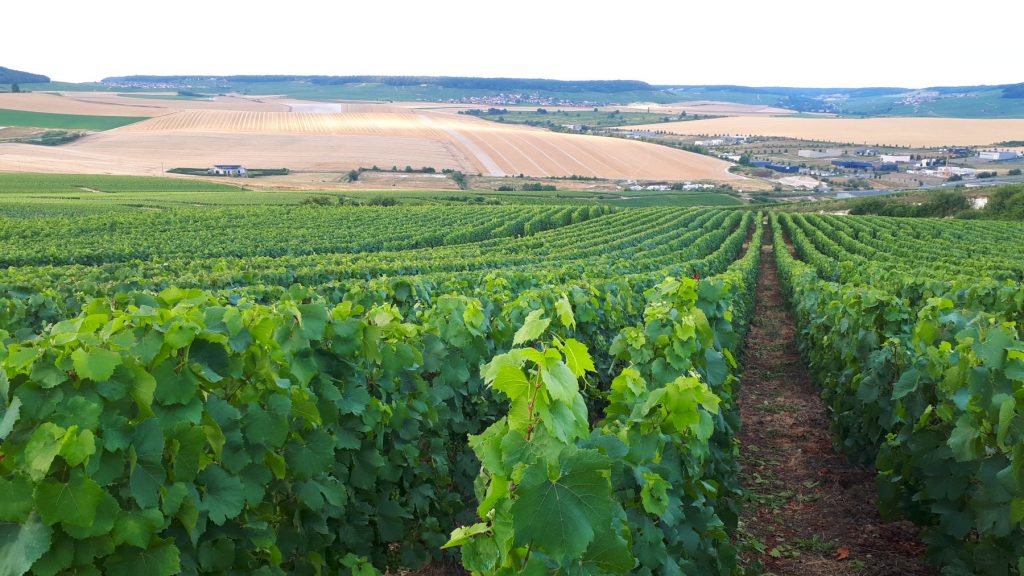 The third and final point of the 'Sacred Triangle' is Chalons-en-Champagne. A designated city of 'Art and History'.  Having parked up the motorhome we set off to look for the Office de Tourisme to get a city map.  This was easier said than done due to the fact that there was only one sign showing the way and its direction was very vague to say the least, pointing to possibly one of 3 streets.  After an exasperating 30 minute search thinking it must have closed down, we finally came across it and it was hard to miss, just much further away than we had anticipated.  It was housed in an eye-catching timber framed building, a local tradition of building that is still continued today.  Armed with our map we proceeded to the nearest cafe to recover from our exploits and see what was what.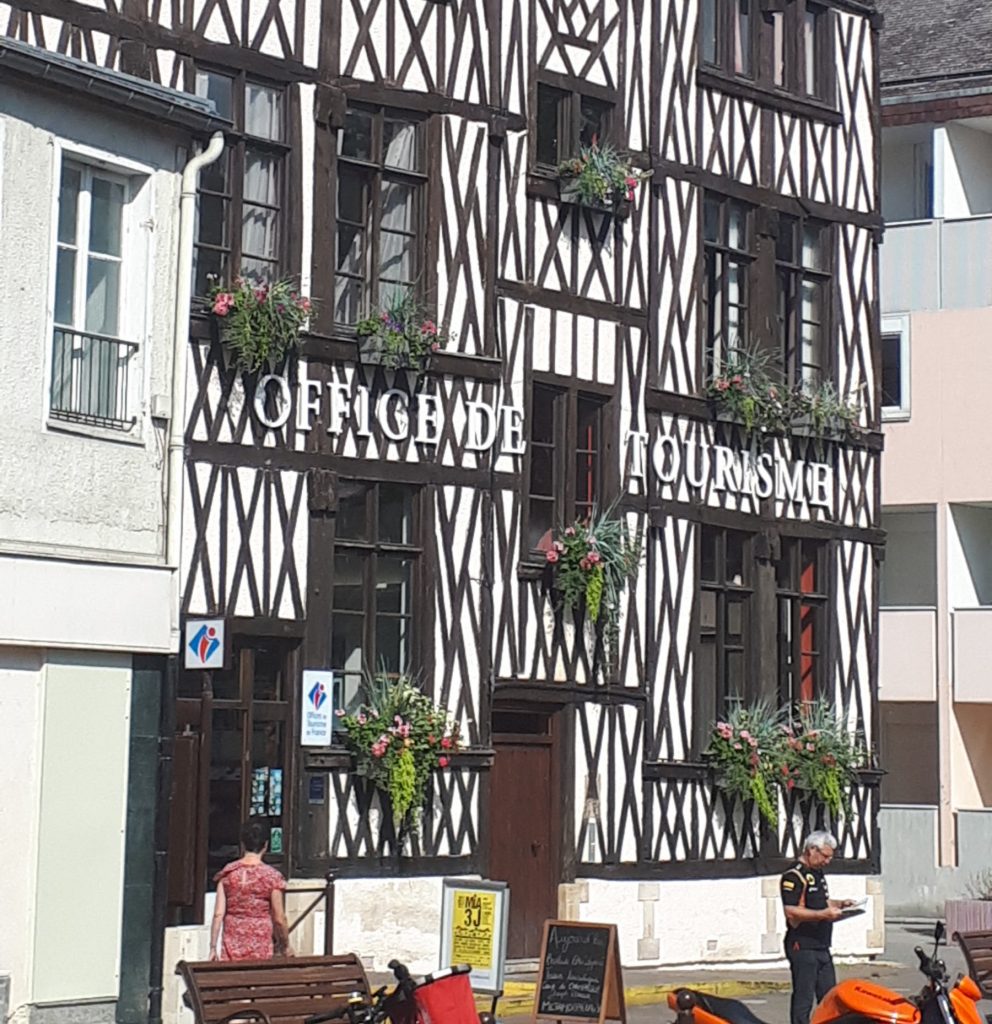 The city is architecturally very diverse with a 2000 year history.  The Port Sainte-Croix stands as a gateway to the city which in medieval times was the mightiest entrance with a two towered enclave and defensive moat. The city was once renowned for its drapery trade before turning to agriculture.  It is also very pretty in parts with winding canals meandering behind houses and gardens, interspersed with brightly painted little bridges adorned with abundant flowering baskets leading to pink and blue painted timber framed dwellings.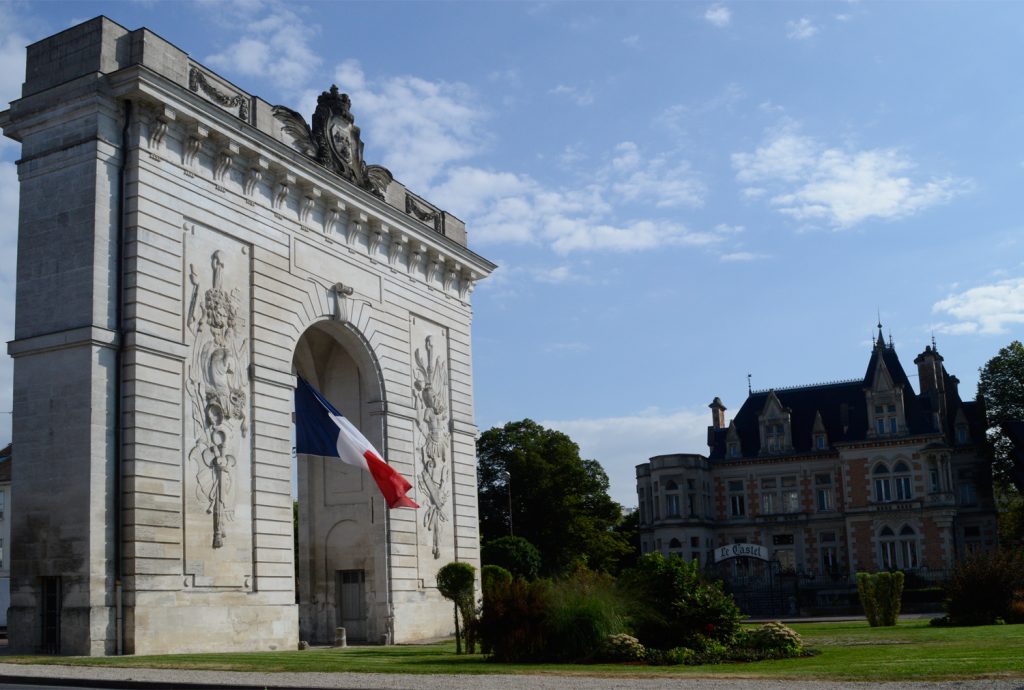 There is plenty of green space here too with a choice of three parks.  A walk through the 'Grand Jard' rewards you with a beautiful view of the Cathedral across the waters of a wide canal.  As triangles go, this has been our favourite!
Glass of Champagne anyone?