Reluctantly leaving the Champagne region behind we set off towards Metz.  But first we wanted to stop off at the Verdun battlefields and memorials on the way.  The longest and one of the most ferocious battles of the 1st World War was fought here, lasting from the 21st of February to the 18th December 1916.  The French alone lost over 160,000 men.   A visit to Douamont's Ossuary memorial site was certainly a sobering sight, especially seeing the huge number of unnamed graves.
We visited the underground Citadel designed to provide shelter for 2,000 men.  It was virtually an underground town with enough bread ovens to produce up to 28,000 rations a day.  Outside the imposing large white statues represent 16 Generals and Marshals and were originally intended to line a Paris boulevard but never made it there.  Once we'd seen all we wanted to see we decided to make our way to what sounded like a nice aire on the banks of the River Meuse.  There were about half a dozen other motorhomes already there when we arrived and we slotted in at the end of the row facing the river.  It was the perfect, peaceful place to relax and unwind after a thought provoking day with a few boats gliding by now and again.
Our Eyewitness Travel guide describes Metz (the capital of the Lorraine area and prounounced Mess) as an austere city so we weren't quite sure what to expect. It certainly didn't make it sound overly appealing using terms such as 'pleasant' which are nice enough but not exactly 'must see'.
We decided to visit anyway as it was on our 'kind of route'. I say 'kind of route' because at the moment we're literally making it up as we go along, looking on the map, seeing what stands out and considering where we can stay. Some days we end up where we said we would go, other days we end up going somewhere completely different – all part of the joy of motorhoming. A couple of times we have had to re-route due to road closures our our Sat Nav just having a funny five minutes and sending us off somewhere completely unrelated to where we asked her to go! When you're motorhoming it doesn't much matter – we just go with the flow or wherever the road takes us. There's always something to discover whichever direction you go – no way is the wrong way when you can stop pretty much whenever you like.
Not expecting too much turned out to be a good thing because Metz certainly exceeded our expectations. Sat on the confluence of the Rivers Moselle and Seille there are 20 bridges spanning the city and many meandering canals too, winding their way through the landscape.  As with most French cities there is an enormous cathedral ( in this instance Cathedrale St-Etienne set on a hill) and several churches which are beautiful and imposing. Even the smallest of French towns seems to have enormous church and we have coined the phrase 'tiny town, giant church' just about everywhere we go.
We explored the city by bike during the day and in the evening went back by foot. By day the atmosphere is fairly quiet and relaxed with workers, tourists and shoppers strolling through the cobbled, maze of streets and posing for photographs on the bridges and by the canals.  There's a large indoor market and as we are now in the region of Lorrain we bought our first piece of Quiche Lorraine and a few other supplies to keep us going.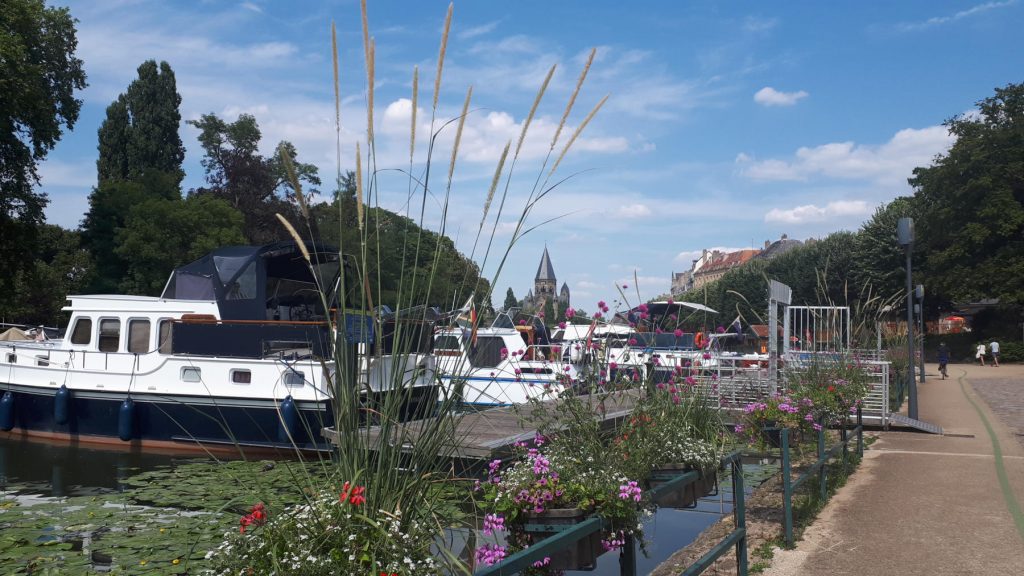 By night the city comes alive and is absolutely teeming with life. People seemed to have seeped out of every orifice packing the cafes and restaurants until almost every seat was full and the air was filled with a loud hum of chatter and laughter. We just about managed to find ourselves a little table in a crowded bar with tables outside and had ourselves a couple of blonde beers while we took in the scene and ambience.  The good atmosphere was heightened by the current art installations throughout the city, many of which come to the fore at night as they are lit, adding a special celebratory feel which we really enjoyed.