Buzz Laika the motorhome is basking in the Spanish winter sun in Montilla.  If the name montilla sounds remotely familiar it might be because of Amontillado, a sherry type wine produced here.  We saw Montilla on the map just a few miles South of Cordoba and it had a reasonable looking free aire so we set off to see what it had to offer.  We were expecting to drive past hundreds of vineyards but yet again we saw nothing but mile after mile of olive groves.  The vineyards are obviously here somewhere but well away from the road apart from the odd little one here and there with the vines trimmed right back to the ground.  From a distance the knobbly short vines looked like studded cloves in a Christmas orange. On arriving we got Buzz a nice spot with a view and left him sun soaking while we walked off in search of the town centre.  The aire is mixed parking with 5 motorhome bays, full services and just a few minutes from the busy part of town so just perfect for us.  There's also a small park opposite with benches, a colourful dovecot and a statue fountain.  Not a bad place to sit for a while.
Walking up the hill towards the town centre our first impression was that the area was fairly unremarkable. Although old, it didn't feel 'steeped in history' like many other old towns possibly because it seemed mostly well maintained with all the residential streets quite neat and freshly painted.  The first main area we came to was the Plaza de la Rosa, one of the town's main squares with the theatre on one side and several bars lining the street on the other.  Here we did find a bit more character with a large appartment building that could do with a good coat of paint and a strangely random corner building decorated with blue mosaic styles giving it a Moorish appearance.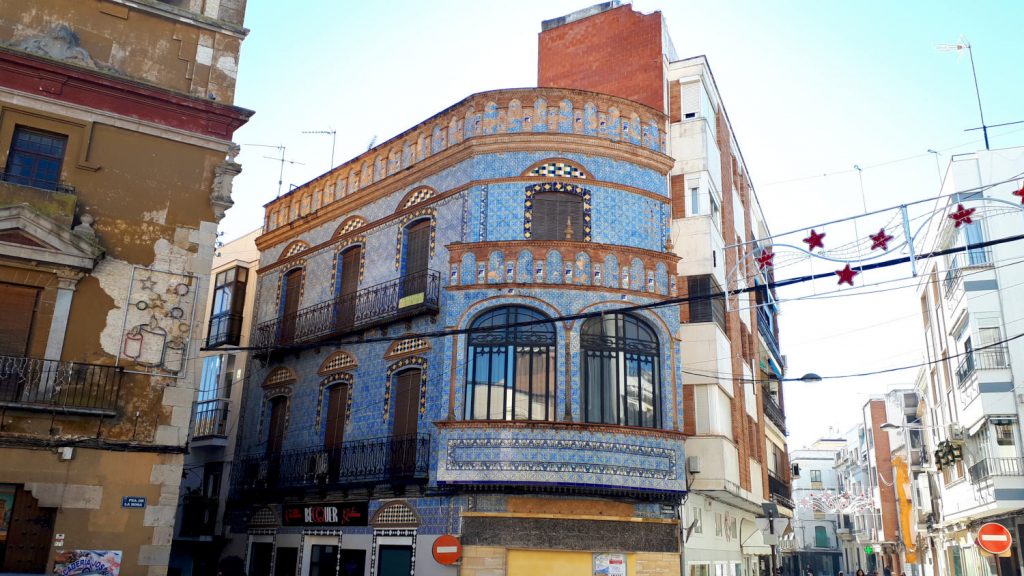 There were some ancient pockets of the town to discover though including the 15th century hilltop Castilla ruins. There used to be an impressive fortress here with palatial halls and a huge courtyard large enough for 400 horses.  Apart from the renovated building housing the tourist office there's not much left of it apart from a few crumbling remains and it's hard to imagine the castle once stood here.
The Tourist Office was closed so we sat on the wall in the sun and asked Google instead for some more information about the town. We were excited to discover that there was going to be a parade later on to celebrate 12th night!  It's a tradition carried out every year called the Cabalgata de Reyes, or Parade of the Kings, starting at 6.30pm. We'd also noticed loads of people walking along the streets carrying enormous cake boxes and had seen a particular ring style cake in many of the patisserie windows.  Both having a sweet tooth we're first to notice any sign of a cake!  Looking in the shop windows we could see it was called Roscon de Reyes (Ring of Kings), a yeasted brioche type ring sandwiched with fresh, sweetened cream and decorated with candied fruits, then topped with a gold crown.  It almost looked like an enormous cream filled bagel!  Still, whatever it was, if it was good enough for Kings it would most definitely be good enough for us!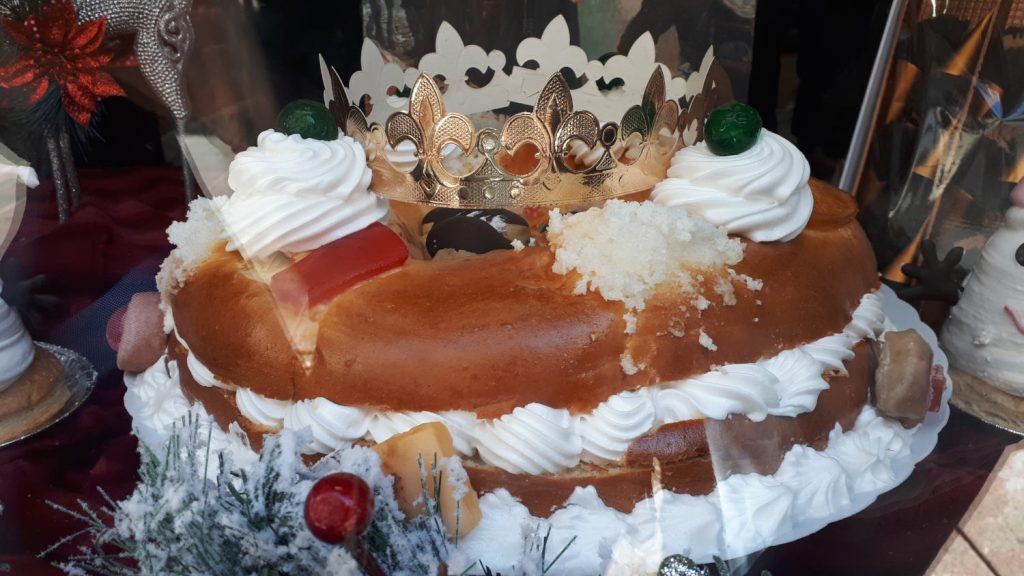 We were really keen to try some but they all seemed to be huge. Then we came across the Pasteleria Manuel Aguilar, a traditional pattiserie with roots dating back to 1886.  They had a big cake in the window but on the counter there was one already cut that you could just take a slice from.  We went in and queued up at the counter while several people came in to collect their pre-ordered Roscon de Reyes which were all perfectly looped with a cardboard ring over the top so they didn't get squashed and then carefully wrapped in paper or a box.  Gesticulating the size of the slice we wanted, the lady started cutting the cake and we could hear the knife hit something hard inside – a hidden trinket!  She looked up and smiled and pushed the 'prize' inside our slice and then wrapped it up with as much care as she had the whole cakes.  She then handed us two free Alfajores (roasted almond paste blocks). Our little freebies were a bit like marzipan but much less sweet and more nutty and we happily munched our way through them as soon as we left the shop.
We continued our walk around the town coming to a sign for the Ruta de la Fuentes Historicas de Montilla, a tour around some of the interesting sights.  We followed it for a while coming across a tiny green church in one of the oldest quarters, the Santico Chapel.  Carrying on we came to a lovely panoramic view out over the surrounding olive groves behind the town.  As we headed back the day was getting warmer and the coats we had put on in the morning were feeling far too heavy.  The sun was out and the hill was steep and as we rounded a corner we passed two ladies on their doorsteps chatting.  As soon as they saw us they began talking to us in rapid Spanish to which we could only reply 'no hablo Español'.  Undettered they carried on, laughing and we weren't sure whether they were talking about the hill or the sun, who knows, but they made us smile anyway.
We decided we would have an early, simple dinner so that we could get back out for the parade but had to get a couple of things from the supermarket first.  Fresh milk proved difficult to find especially given that we asked the shop assistant for leche fraise (strawberry milk) instead of leche fresca (fresh milk)!  We had more luck in the jam aisle though when a helpful gent sauntered over to us as we discussed the merits of plum over peach.  He proceeded to offer his own opinion going as far as explaining how we might use it, for example with butter on toast! The day before we'd bought some Flamequins, a regional dish of breaded fried croquette type sausage filled with ham, cheese or in our case chicken.  Probably not the healthiest of options but we wanted to try them and they were very nice.  Having polished them off we moved straight on to the cake – fresh cream can't be kept waiting after all!  First of all we had to extract the hidden 'surprise' which turned out to be a funny little plastic hippo with angel wings who is now perched with blue tac on our dashboard!  Apparently the one who finds the prize can be king for the day and has to buy the Roscon next year.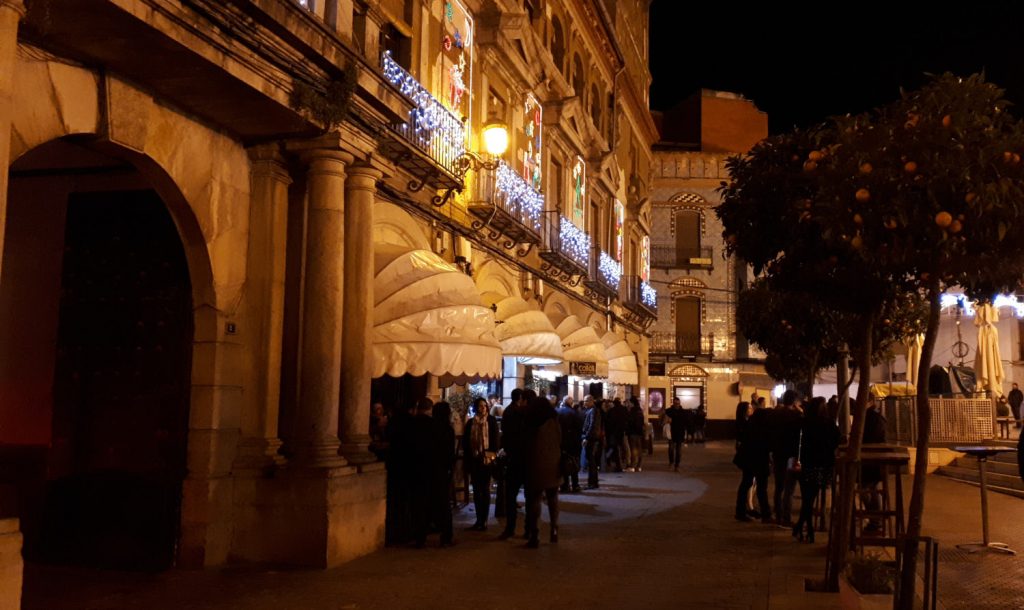 It was soon time to set off for the parade and we weren't quite sure what to expect.  After a bit of a delay with the traffic police sorting themselves out the fiesta began and a procession of loud, colourful and individually decorated floats all filled with school children started to slowly drift by.  And this is when the mayhem began!  The main aim of the parade seemed to be to fling as many sweets into the crowds as physically possible while passing by.  Huge handfuls were thrown out alongside confetti, small toys and balls.  So many came flying out it was like dodging missiles, many people being hit on the head, or straight in the eye!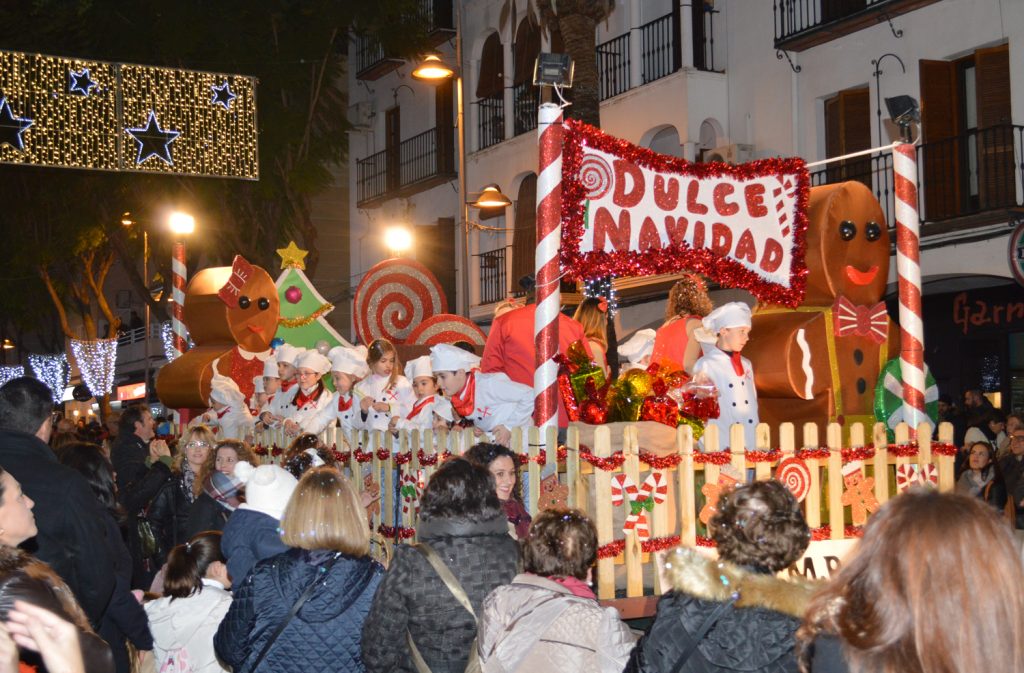 Most of the sweets seemed to end up on the road with equal numbers of kids and adults scrabbling to collect as many as possible, with those who secured a toy looking around smugly with their catch.  An elderly lady with a walking frame next to us suddenly became unfeasibly flexible every time a sweet landed at her feet, swiftly doubling over to pick it up! An friendly woman the other side who'd been trying to chat with us just kept saying 'azucar, azucar' (sugar, sugar) while frantically putting one after another in her mouth and laughing.  All the time sweets were being thrown out, new boxes were uncovered from the backs of the floats in what seemed like a never ending supply.  Talk about a sugar high, some of those kids probably wouldn't sleep for about a week after that!
The mayhem finally came to end after a quite long, drawn out 2.5 hours and we enjoyed a drink in one of the bars before returning to the motorhome for the night.  A fun day with an unexpected finish and a tasty new discovery to remember.