Commanding a magnificent defensive position atop of a high ridge of tufa rock, the ancient town of Pitigliano is a remarkable sight.  After parking the motorhome at a nearby aire and walking for 10 minutes towards the historic centre we rounded a corner onto the Strada Panoramica to see this extraordinary town in all its glory, literally hewn into the edge of the rock face with sheer drops out of the house windows, overlooking the Lente valley.  Not for the faint-hearted!
Surrounded by deep, wooded ravines, Pigitgliano is a sight to behold. Hidden underground and out of sight these soft limestone rocks are riddled with a network of tunnels and caves used to store stocks of olive oil and wine.  Entering along Via Cavour we came across the eye-catching site of the ancient arched 16th century Medici acqueduct which brings water to the Palazzo Orsini.  These high arches provide almost a picture frame effect over the valley and frame and piazza which is enhanced further with an attractive fountain in the centre.  The church finishes the scene, its tower being home to a giant bell weighing 3 tonnes!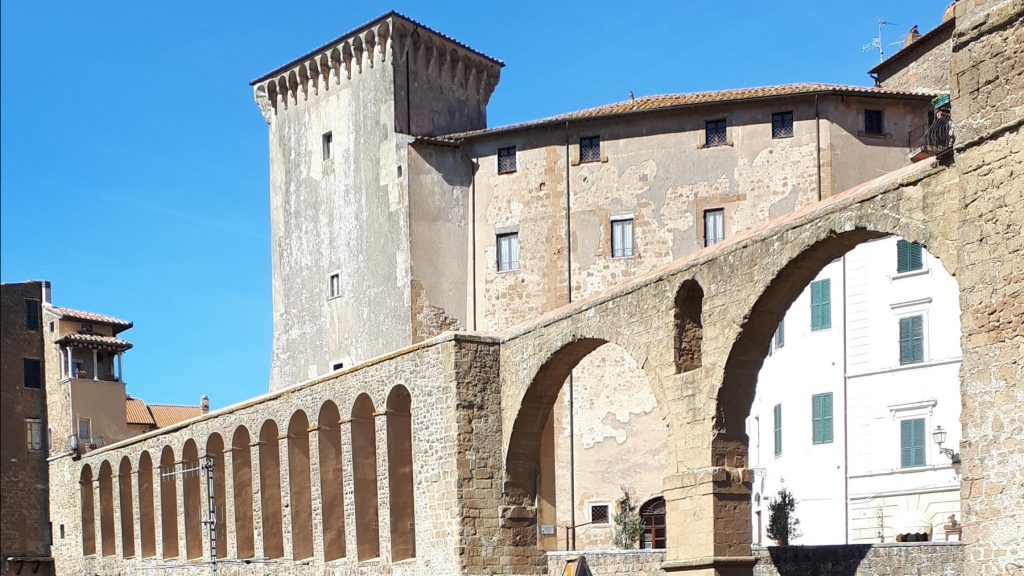 Wandering further into the heart of the town we came across the Jewish quarter, a huge part of Pitigliano's history, once known as 'Little Jerusalem' and home to many Jews who fled Catholic persecution in the 17th century, flocking in from nearby Florence to set up a working community as cobblers, tailors and traders.  The old synagogue, bakery, butcher and wine cellar still exist today and can be visited alongside the museum which has preserved this important part of the town to keep its history alive.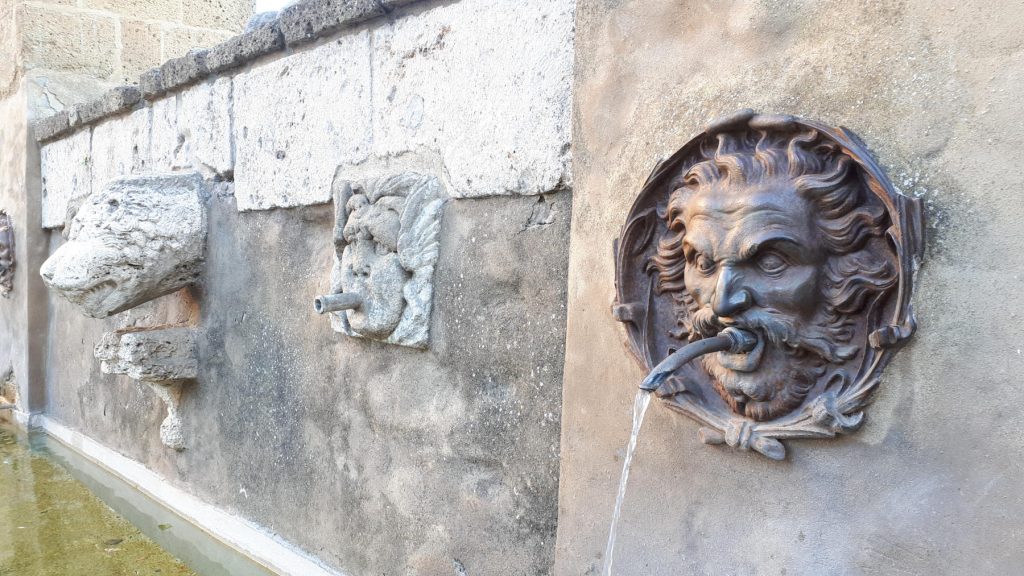 Walking the ancient streets of Pitigliano we could almost feel the long years of history seeping out of the walls, rising out of the pavements like steam and enveloping us in a different time and age.  It was a blustery day and the slim streets acted like wind tunnels with sudden blasts whistling through. In the side streets shards of sunlight appeared now and then highlighting hidden doorways and narrow alleyways like an invitation to explore.  Descending down one such alley we found ourselves out on a wide terrace, right on the rock edge, with an alternative view of this captivating town.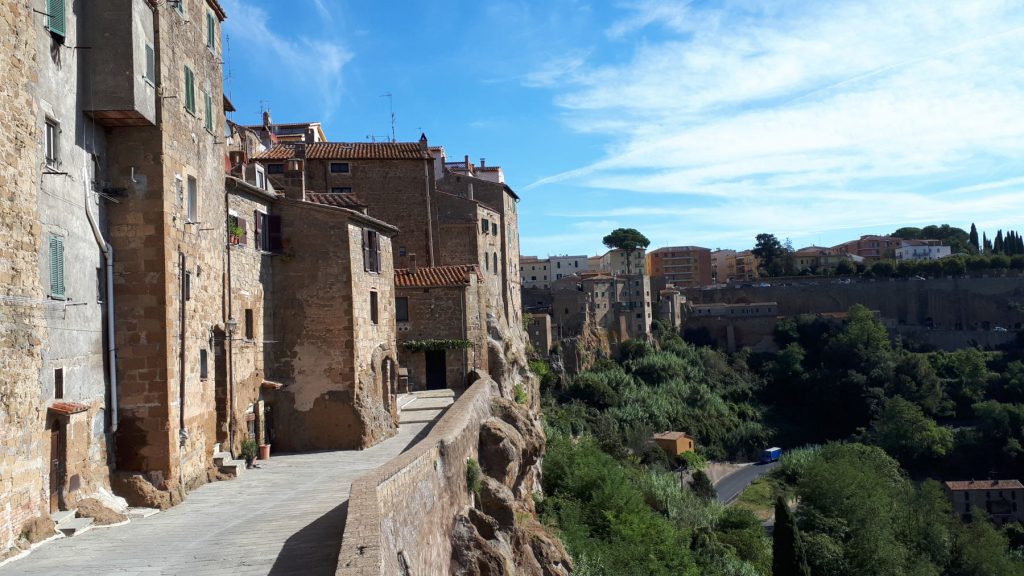 Visiting in late September, the town was fairly quiet, but of course in order to survive it has to attract tourists and there are many stores that do just that, selling typical Tuscan foods such as pecorino cheese, wild boar salami, honey and jams. Wild boar is typical food in this area of Tuscany and is used to produce cured sausages as well as special dishes such as wild boar ragu to be served with pasta.  There is also plenty of olive oil on offer of course as well as attractive olive wood boards, dried pasta, enormous single bread sticks and little biscotti.  Local artisan crafts, artworks, hand-made leather goods and jewellery make up the rest of the offering.  Small cafes and restaurants are also scattered along the streets and squashed into the tiniest of terraces, but being the end of the season most of these were closed.  Following our noses however and the smell of freshly baked pastries, we did find a pretty patisserie and chose a couple of local pastries to try all in the name of research of course!   We settled for a couple of Sfogliatella – shell-shaped, crispy, crunchy delights with many layers filled with a delicious, soft chocolate paste.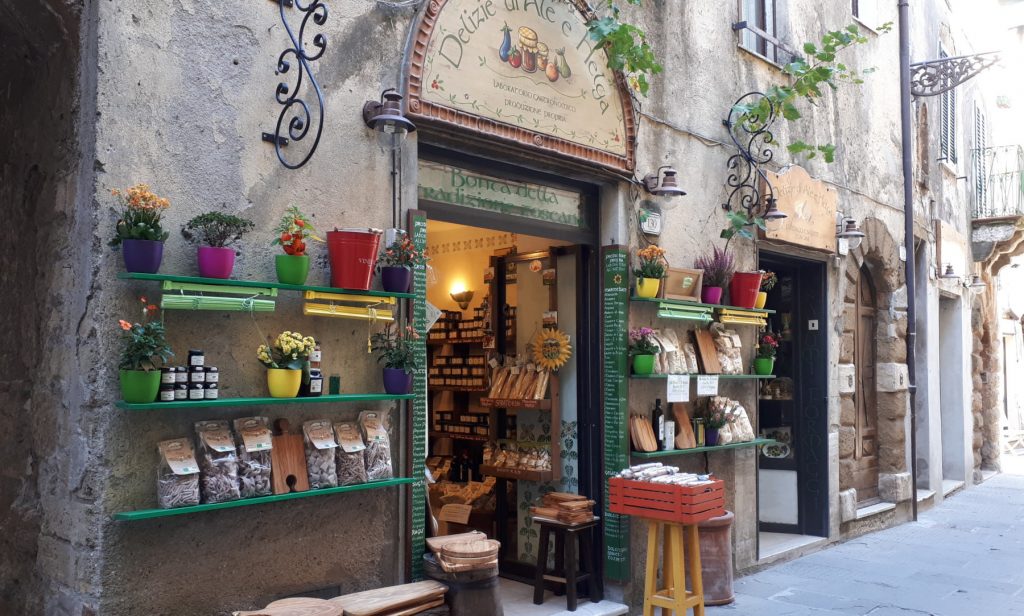 We noticed many troglodyte cave style homes for sale and could see a huge diversity in condition from pictures in the small estate agent window.  Some were dark, oppressive and in need of update whilst others had been painted bright white inside, creating charming, cosy looking interiors.  Through open doorways we could see several others being renovated as we passed by.  Access is not easy however and the only transport that will fit these thin streets are the tiniest of cars and for workers bringing construction materials the largest vehicle they can use are little 3 wheel Piaggio Trucks.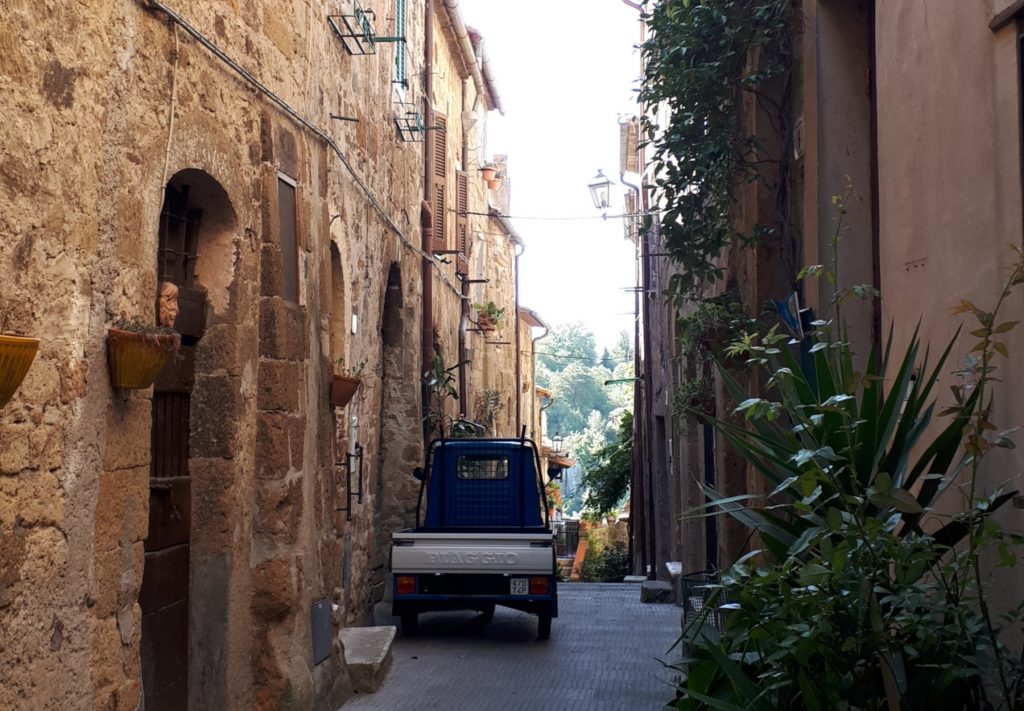 While we were there the grape harvest was in full swing with tractors regularly climbing up out of the valley and through the town pulling trailers laden with grapes on their way to the local winery. Pitigliano and the wider area of the Maremma produces the famous Bianco Pitigliano, which is vitally important to the local economy and most of the locals drink it in large quantities from big 5ltr flagons.  Made from Trebbiano, Malvasia and Chardonnay grapes, the wine has a distinctive light, citrusy taste and pale straw colour. In fact there was a production facility just near the aire and we could see hundreds of flagons stacked up on pallets waiting to be distributed to thirsty locals!
Pitigliano is a uniquely enchanting town, quite different to the other hill towns and villages we have visited. We're very glad we visited and if you do, you will be too!