Being first time motorhomers, it's possibly not normal to go off on a road trip around Europe for months on end having never motorhomed before, but that's what we're doing and 4 weeks in we've not regretted it for a single moment.  On the contrary, if we'd never got to experience these last few weeks, discovering beautiful places, meeting interesting people and enjoying the feeling of the open road inviting us to explore in any direction we choose, we'd never have known how carefree and relaxed we could be. Every day brings a different view, a new area to seek out and another chance to live our lives to the full making the most of this wonderful opportunity we've been given by Laika UK to explore Europe in a Laika Kreos motorhome.  Living life to the full doesn't have to mean doing crazy things and being active non-stop, it just means doing the things you enjoy, taking time to look around you without rushing and enjoying where you are and what you have.
For us travel is what we love and doing it by motorhome really allows us to delve deeper into areas that we might not otherwise see and linger longer in the parts that we like most because there are no reservations to keep and no rigid plans to adhere to.  We enjoy a gentle stroll as much as we do a hard slog up mountainsides (although you wouldn't think so, the amount of moaning, huffing and puffing that goes on while climbing a hill in the heat!). We like to find a peaceful scenic spot to sit and chat, taking in the landscape, possibly (or maybe definitely) with a nice cold beer and sometimes a picnic. We regularly get the bikes down off the back of Buzz and cycle around cities to see the sights or pedal along country trails or around small towns and villages seeing how people live, exploring the back streets to get a better sense of a place, taking photos as we go.
One of our favourite things to do is sample the local produce and we love nothing more than to sit in a little restaurant or cafe trying out the regional foods and specialties, tasting the local wines and spending time people watching and taking in the ambience whether quiet and relaxed like in the small villages on the wine route or buzzing and upbeat like in the city of Metz.  Talking of food and wine, we've probably had far too much of both already but it's someting we both really enjoy. Hopefully the exercise we take every day walking and cycling will counteract some of the effects but we will either come back fat or fit and we probably know which!
Along the way we've already met some friendly, helpful and interesting people. Having worked at home for several years, getting out and meeting new people was something we were both looking forward to and it's been great to share stories and hear about other people's travel tales – good and bad.  A few days ago we met a German couple who travel in their motorhome every year from the Black Forest to the little town of Mouthe where we were staying (apparently the coldest town in France) to buy 8 kilos of Comte cheese from his favourite Fromagerie and take it home to last until the next year.
While in Rougemont we heard the terrifying tale of a Dutch couple who travelled to the Gorges du Verdon and forgetting to change their Sat Nav from bike routes to vehicle routes, found themselves on a petrifyingly narrow track which they then had to reverse back down for about a mile because they just couldn't get any further.  There was no escape from the van because they were completely penned in on one side by the rocky gorge wall and the other was a sheer drop.  Rocks and pebbles fell from the road as they gingerly reversed, holding their breath until they got back to safety and it took an hour or so for their heartbeats to return to normal afterwards!
Luckily we not have encountered anything nearly as heart-stopping as that and hopefully never will.  We have though had a few 'oh my giddy aunt' moments – the worst being the time we went up a narrow road to the Citadelle in Bescancon only to be greeted by a thundering great dustcart on its way down. There was literally no way we could pass each other and mercifully, as we already had several cars behind us, the lorry was the one to back up.  It took a good 2 minutes manoeuvering back up the hill round tight bends to get to a point where we could pass and all we could think once we reached the top was 'how on earth are we going to get back down??'  Out came Google maps and thankfully we found an alternative road and got down without incident.  It did teach us a valuable lesson though and now if we have any doubts whatsoever about where the Sat Nav wants to take us we just say no, pull over somewhere and check for alternative routes.
Throughout our time on the road our overnight stops have been a mixture of Aires (official stopovers for camping cars), France Passion sites (typically on farms, vineyards and the grounds of artisan producers) and unofficial spots such as mountain viewpoints or chateau car parks.  Each have their own attraction – an Aire if we need services and/or electricity, a France Passion site if we want somewhere slightly out of town and maybe rural with some nice shade, or an unofficial spot for a quiet night with great views.  Before we started this journey we read that it is illegal to open windows, get out tables and chairs etc and have a BBQ.  This sounded very restrictive and whether it is the case or not everybody still does it and it seems to be very unusual not to be able to spread out, relax and enjoy your surroundings whatever they may be.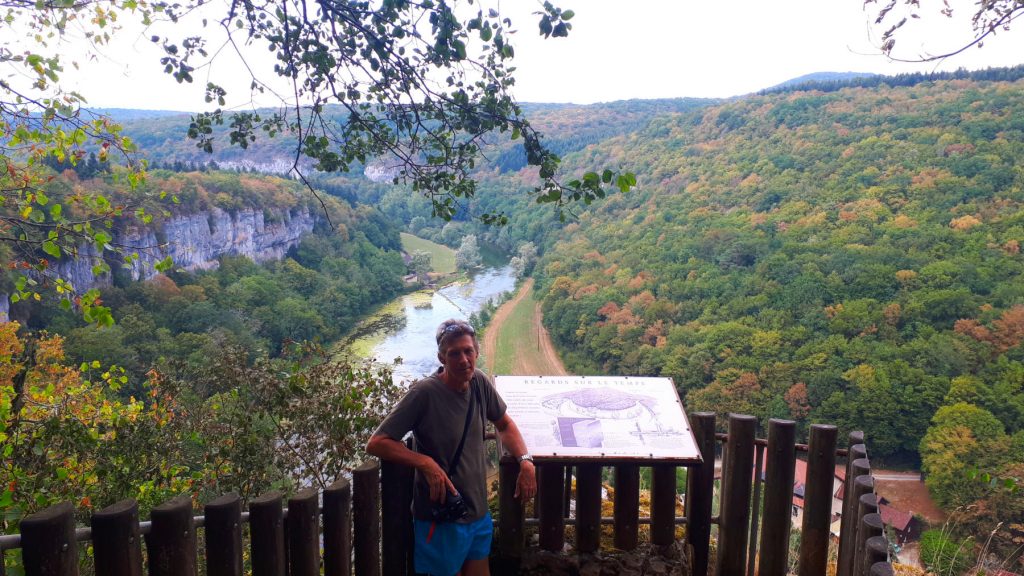 We have found the motorhoming community to be a very friendly and inclusive one. There is always a wave when passing other motorhomes on the road, always a 'bonjour' or 'hello' when parking up and while people are happy to chat they are not intrusive and everyone just enjoys their own space with a happy, comfortable comraderie.  A French van neighbour recently had a problem with his gas and one after another helpful fellow motorhomers came over to see if they could assist.  We have no doubts at all that if we were in any kind of trouble help would be at hand.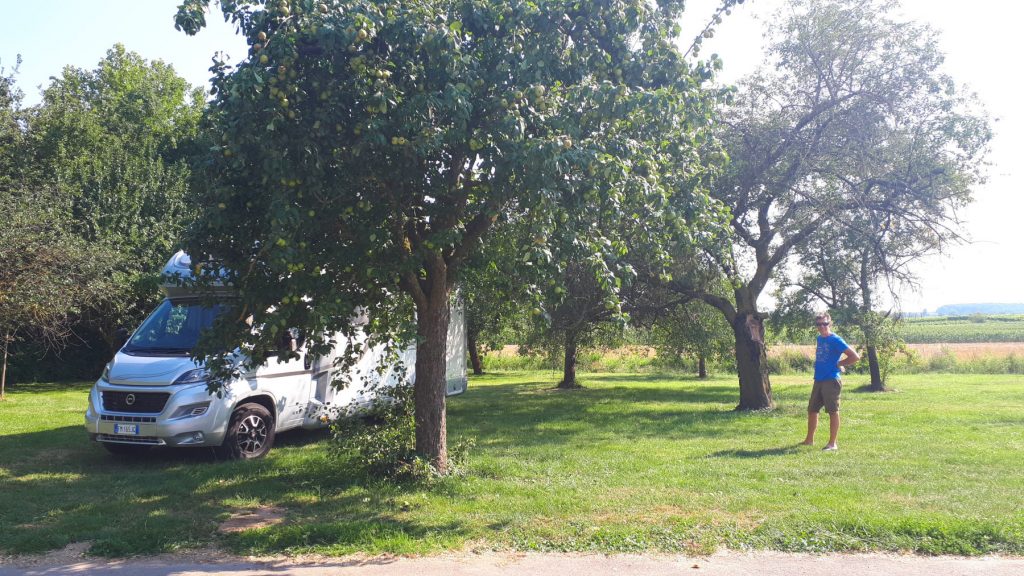 We've seen all manner of motorhomes, campervans and highly unusual conversions on our travels but whatever their mode of transport all have the same intention just to travel, explore and enjoy.  While many motorhomers are couples like us we have also seen families and groups in all shapes, sizes and configurations.  From friends travelling together as a group, couples with little kids, couples with big kids to a huge number of people with pets on board.  We've seen giant hairy dogs, short and squat sausage dogs and pocket sized dogs all enjoying vanlife and yesterday we even saw a couple travelling with a Persian cat!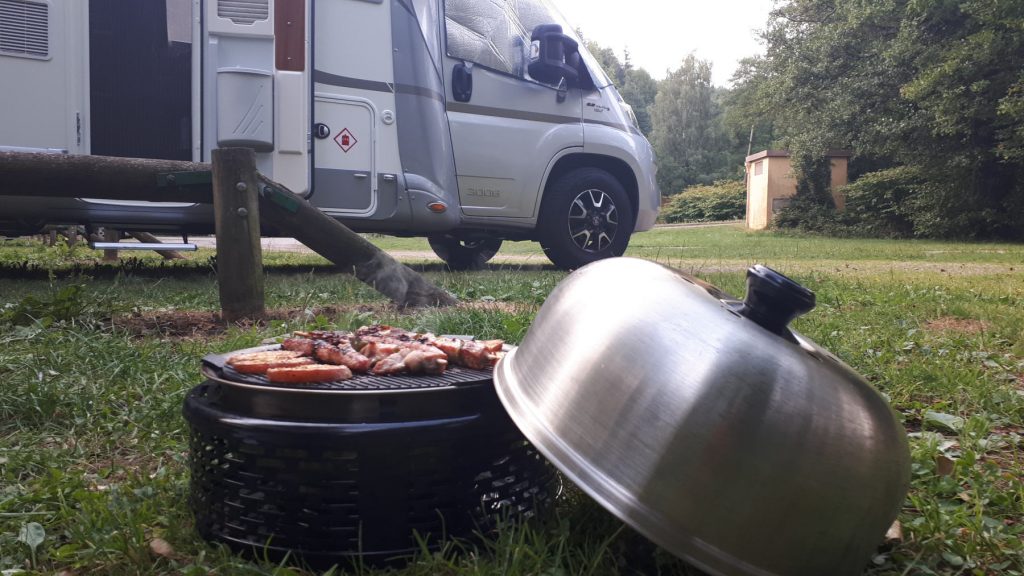 Four weeks ago we were apprehensive newbie motorhomers and after our time so far in France we feel totally at ease and any worries we had have already completely vanished.  As we now enter our 5th week we do so happy and relaxed, looking forward to where the road will lead us next…….