After the Vosges we travelled to the department of Doubs,  an area of the Franche Comte named after the river Doubs which rises in the South East of the region at Mouthe, flowing North up the Eastern border of France and Switzerland and then turning back in and flowing down the Western side of the area before it's eventual confluence with the Saone South East of Dole.  The area alternates between rolling plains, sweeping hills, verdant mountains and tree lined valleys littered with numerous waterfalls and cascades. It's an area with many notable buildings largely built as a result of 100's of years of invasion and defence of which much is owed to the military architect Vauban.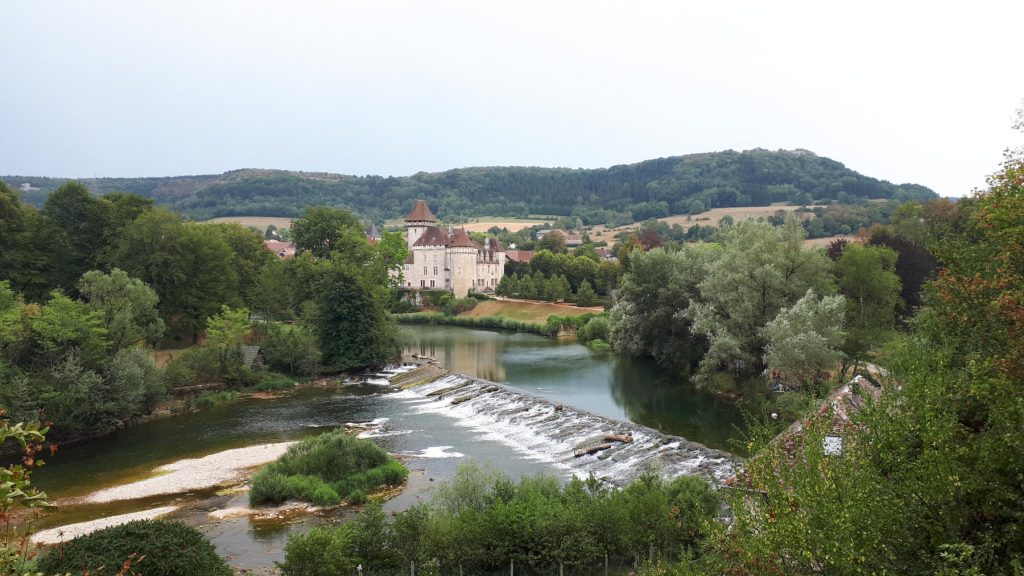 We started our journey in Belfort at an aire with free parking, electric, water and waste disposal and just a stones throw away from another of Vauban's great fortifications –  Belfort citadel with a giant pink sandstone lion statue built by Bartholdi in the late 1800's. As with so many towns and cites in the area the architecture is formed around defences and warfare and it is fair to say the legacy is for us to enjoy though sad in it's requirement at the time.  Belfort is an interesting town of a reasonable size and well worth a visit for motorhomers. The aire is a real bonus as up to 8 motorhomes/campers can get free electric hook up, up to 16 amp for up to 48 hrs which we have so far found rare to say the least, with all other services free it is worth keeping it in mind. The aire is plain but has plenty of room for many vans and is pretty central with just a short walk/bike ride into town or the citadel.
From Belfort we headed to a France Passion site at Rougemont, Moulin de Montferney where we parked for the night and were invited to join the hosts (Genevieve & Michel) and their guests for dinner (this was a paid dinner at Euro 25 per head) of which there were 19 including us. Having accepted the offer we were then invited to enjoy a nice cooling swim in the pool before showering and changing for dinner. We kicked off with home made Elderflower wine 14% proof aperitif at 7.00  which took a bit of getting used to but soon mellowed and became quite pleasant!  This was followed by a sumptuous dinner at 7.30 consisting of 5 courses of delicious fresh home grown produce and local cheeses.  We sat with a Dutch couple and a Swiss man who wanted to work on his English and a pleasant evening was had by all with plenty of food consumed, wine drunk and travel tales shared, followed by coffee and a digestive of Poire Eau de Vie to finish.
The next morning saw us heading to Besancon and it's stunning citadel perched 100m up on a promontory overlooking the city and river Doubs, Vauban's masterpiece is an amazing construction and worth a visit. A UNESCO world heritage site Besancon citadel today houses several museums and a zoo making it a great visitor attraction.  As for the rest of Besancon there is much to see and do with the options of river trips, kayak and boat hire or just a relaxed stroll around the old town with it's classic French facades full of shops, bars and museums.  In the day we chose to explore by bike and then enjoyed a scenic evening walk along the river, taking in the lit up rennaisance buildings,  and the buzz of the city which seemed to have come to life. The aire is situated riverside right in the city, there is a small charge but you don't feel isolated as you can in other places where the aires are sometimes tucked away.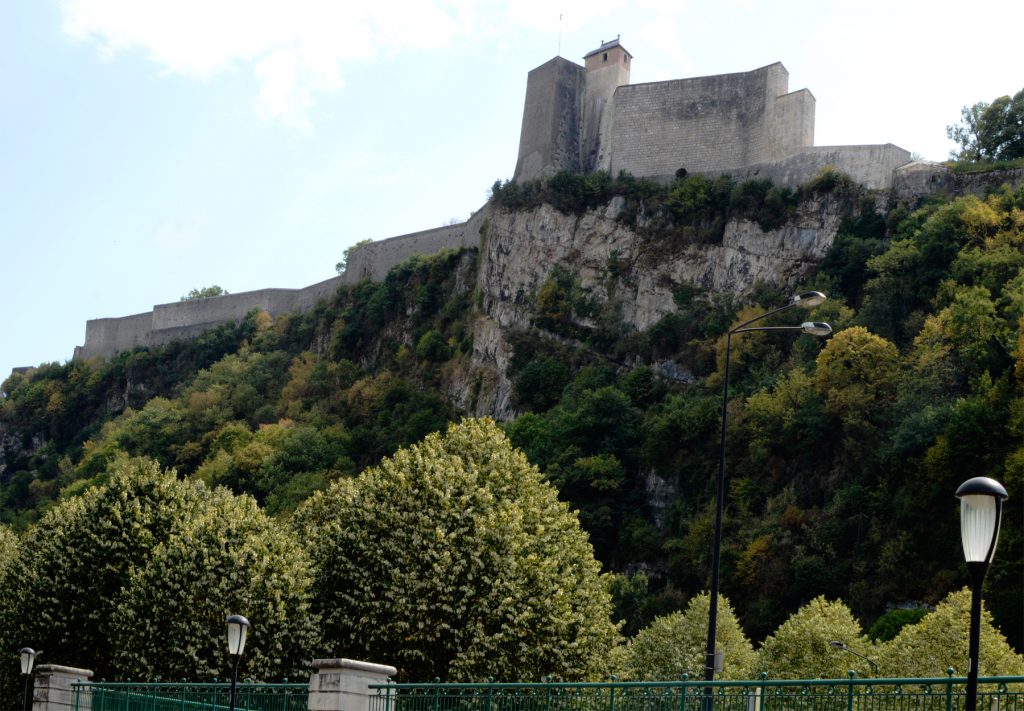 After Besancon we headed east towards Villers le Lac and the Saut des Doubs,  a 27 meter waterfall on the French Swiss border stopping on the way at Etalans and the Gouffre de Poudrey – a massive underground cavern (one of the biggest in France) with a spectacular and impressive sound and light show. What started out as a pleasant temporary reprieve from the searing heat at only 7c left us shivering after an hour and turning blue. Even our knees were numb!  Climbing back up the 150 steps to the surface we were glad to get back into the sun.  From the Gouffre we headed to our resting spot for the night along the Cirque de Consolation,  parking in the car park of the monastery Notre-Dame-de-Consolation, where for 5 euros a night you can park, stay over night and go into the monastery and take their walks (usually 3euro each) which we did. The only disappointment was the lack of water particularly at the Grand Cascade, however we had a pleasant cooler evening and set the alarm for a nice early walk and scramble up to some of the higher view points descending to the source of the Dessoubs which was certainly worth the effort.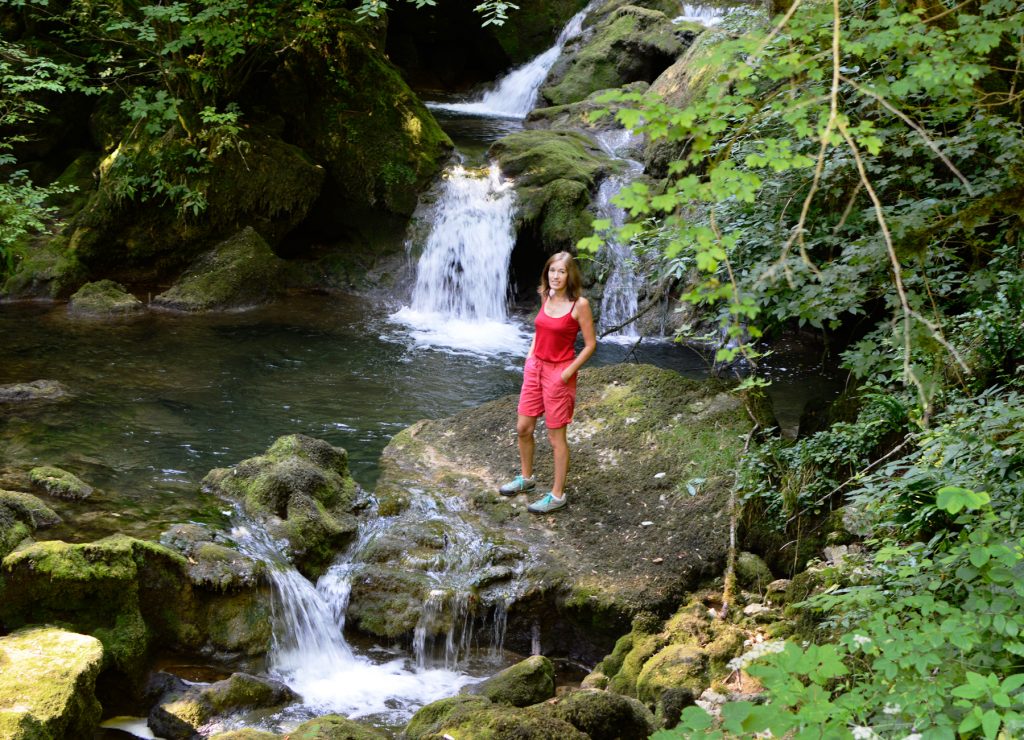 Moving on after a mid morning cup of tea we headed for Villers le Lac stopping for the night at the France Passion site Les Caleches du Saut du Doubs, who run trips to the river including a horse and cart trip  with the beautiful and powerful Comtois horses with their golden coats and flaxen manes.  We left from their restaurant to the view point Belvedere des Gorges du Doubs with it's stunning views of the river, before continuing on the Saut du Doubs for a look and walk around finishing with a short walk across a bridge into Switzerland and a boat trip back to Les Brenets with a taxi ride back to Les Caleches. This was certainly our favourite way of doing the trip as most just have a boat ride then a few minutes at the Saut, In the evening we had a lovely 3 course meal at their restaurant to celebrate our  11th wedding anniversary.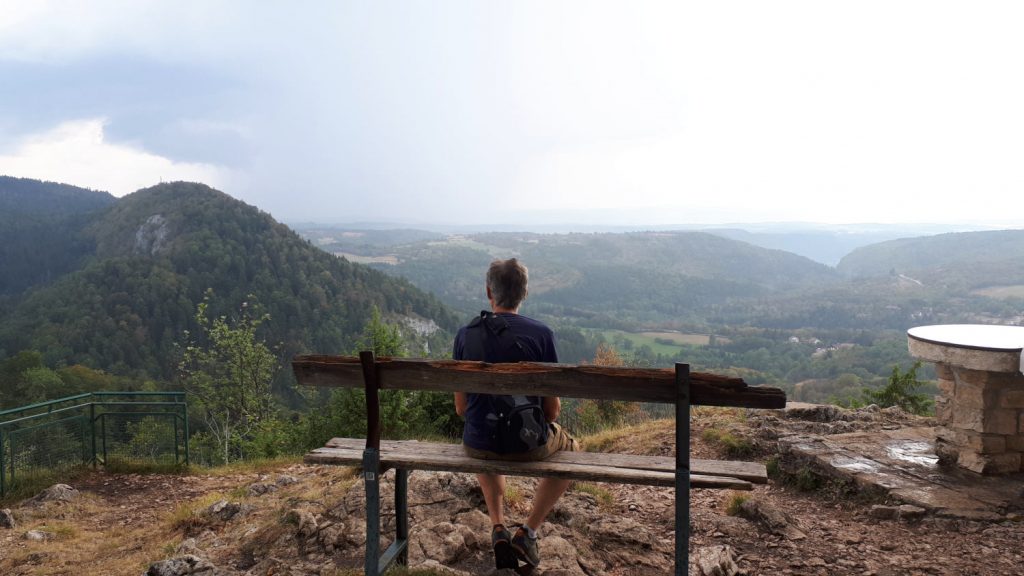 Realising our gas was getting low a search for LPG stations revealed plenty but none closer then Besancon so a quick return trip was the easiest answer. From there we headed towards Ornans via Quingey and Cleron taking in the views, an elegant chateau and pretty villages along the way. Followed by a similar drive to Pontarlier the next day via the pretty village of Lods and the waterfall at the Source de la Loue, which was the most impressive of the cascades we have seen so far with powerful falls raining down from the mouth of the rockface. Staying overnight at the Chateau de Joux, perched up on a hillside and another Vauban masterpiece, we met and spent an enjoyable evening with a young German couple Phillipe and Kimberly on a 7 week road trip for their Uni summer break on only their second day, loaded down with mountain bikes, motocross bikes and kayaks.
Lastly we headed for Mouthe and the source of the Doubs itself, going via Lac de Saint-Point,  a sparkling blue mirror like lake in a stunning, peaceful location, measuring an enormous 7.2km long – the 3rd largest in France.  While sitting outside the van relaxing in the early evening a German motorhomer wandered over for a chat.  Turns out he drives to Mouthe once a year from the Black Forest in Germany, purely to stock up on cheese from the town's award winning cheese shop!  And on that recommendation we went and bought some for ourselves – must be good!   The next day we had a lazy start before cycling out to the Source  in a pleasant shaded woodland setting before finally moving on to Les Rouses ski station for the night and out of the Doubs.
As with all these areas we have only scratched the surface of what there is to see and do and likewise will look back with fondness for the area and it's stunning scenery, villages, towns and produce knowing a return visit will yield so much more.
In the areas we have visited so far we have been surprised by the lack of visitors from the UK, there is so much to see and do and motorhoming is so easy it should be on more people's lists and hope that in future more will go the area which certainly deserves to be seen.