While in Spain we met up with some friends and decided to enjoy a weekend in Granada together.  We all agreed it completely surpassed our expectations and instantly entered the ranks of one of the best cities any of us had been to in Spain which is a bold statement when you consider how many beautiful cities and places there are in Spain.  With a magical mix of architecture, endless scenery (from the snow capped mountain tops to the views across the city), and he endless choice of delicious tapas and bars in the old town, Granada is a fantastic choice for a long weekend.
The jewel in its crown is the Alhambra – a magnificent Moorish palace located on top of the al-Sabika hill – its orange tinged stone contrasting with the surrounding green landscape.  Alhambra can trace it's origins back to the 9th century.
There are two important points to consider if you wish to visit Alhambra; the first and most important is to book your tickets well in advance, we would suggest at least 3 mths if possible otherwise you may not get in.  We were unaware of this when we visited (hadn't done our homework!) and arrived at the ticket office only to be told none were available.  Just as we started making our way out, completely downhearted, we heard the attendant calling us back saying that 4 people had just that second cancelled and we could go in after all- talk about good timing!  Make sure you arrive in plenty of time for your visit as for entry to the Nasrid Palaces you will have a timed ticket and if you're not there you won't get in. This makes the visit far more enjoyable as there are fewer crowds as a result you can really get to see the beauty of the palaces.

That's not to say that Granada is just about the Alhambra because it isn't. There is so much more to see and do, as well as the interesting and historic builds this is a vibrant city full of life charm and as mentioned, no small amount of tasty Spanish food.  We especially enjoyed availing ourselves of the numerous Tapas bars in the old quarter where you can effectively eat for free. Most of the Tapas bars work on the premise that a drink equals a plate of tapas, and most of them are completely free.  We didn't pay a single euro for food for 2 whole days except for buying churros for breakfast.   It's very easy to get drawn into a bit of a bar crawl but you will miss out on the best food if you do as the more drinks you order in a bar the better the Tapas get!   With your first drink you'll get a basic and perfectly tasty plate but with each drink you order, the selection improves and the tastier morsels make an appearance, such as 'rabo de toro' (melt in the mouth slow cooked oxtail).
So find a nice bar or 2 stick around and enjoy the buzz, beer and food.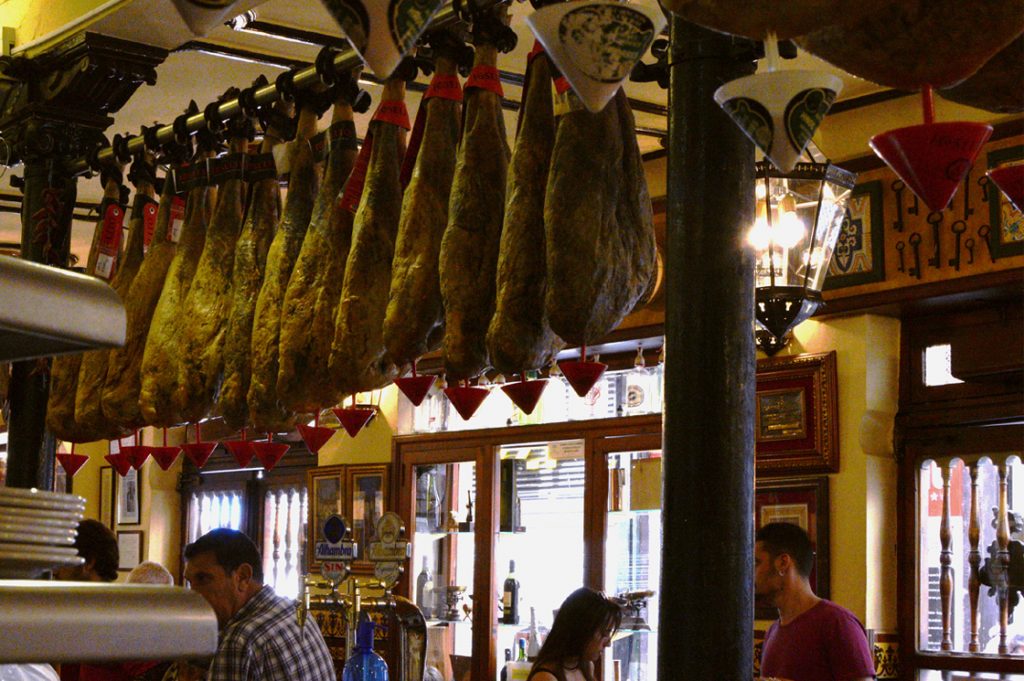 Granada is one of those cities you can do in a couple of days but stretching it out to 3 or even 4 days will make the trip that much more pleasurable and relaxed. Take time to stroll around the old streets of the Albaicin area with it's Moorish feel and plethora of craft shops working your way up until you get to the perfect view across the valley to the Alhambra for some great photo opportunities. Then grab a cold drink before taking in the Cathedral. If you have booked your tickets for the Alhambra make sure you book a taxi or as we did take a nice leisurely, if somewhat steep, walk up to the gates so you know exactly where you are going so as not to be late.
Should you go to Granada? YES you should!
Some images of Granada and the Alhambra Palace