Driving down from the mountains we set off towards the coast to Estepona, continuing our motorhome tour of Spain. We'd seen a campsite online with bad reviews and hadn't been able to find an aire so we turned to Park4night. Its an online resource for finding places to park overnight, but not necessarily just the official ones. It showed a small row of parking just in front of a small park area right next to the beach at Playa del Angel. It was a bit of a squeeze lengthways but parked between two posts we had plenty of room sideways so decided it was okay. Having got ourselves settled it was already late afternoon so we had a short walk around the immediate area taking a boardwalk down along the beach front. We kept walking for a bit until we came across a couple of inviting looking bars full of people chatting and enjoying the sea view and it was just too tempting not to join them. We got ourselves a drink and sat their enjoying the ambience looking out to sea until the sun went down and then went back to the motorhome to cook dinner. This was followed by a game of Scrabble (there's a fierce competition going on) accompanied by a fino sherry nightcap, the first opening of one of the bottles we bought in Montilla and very nice it was too. It enhanced the Scrabble game no end.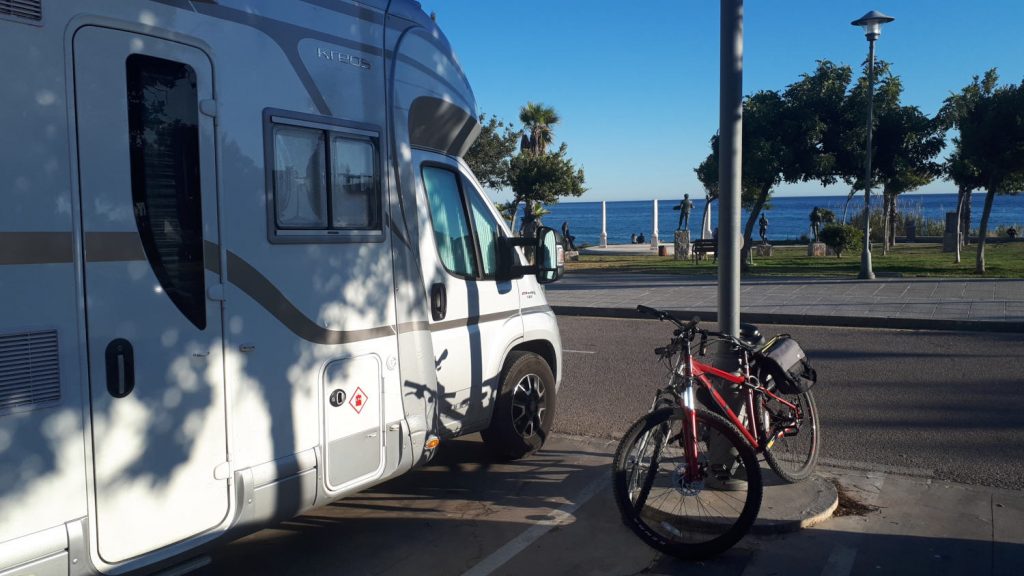 The next day it was time to get the bikes off and cycle down the promenade along to the main Estepona beach front. Just after we set off we got talking to a tall English Northerner dressed oddly like a stereotypical Frenchman (stripy top, cut off trousers and espadrilles) clutching a tiny dog under one arm. He'd seen us leaving the motorhome and said he lived in the apartments behind. He was keen to find out how we knew where to park and said he was thinking of getting a smaller campervan himself. This moved us on to a discussion about the merits of a small van (easier to park and negotiate narrow roads) versus a larger motorhome (more comfort, storage and facilities). We parted company with his recommendation that we should go along to the gin bar in the morning for a very good tapas breakfast!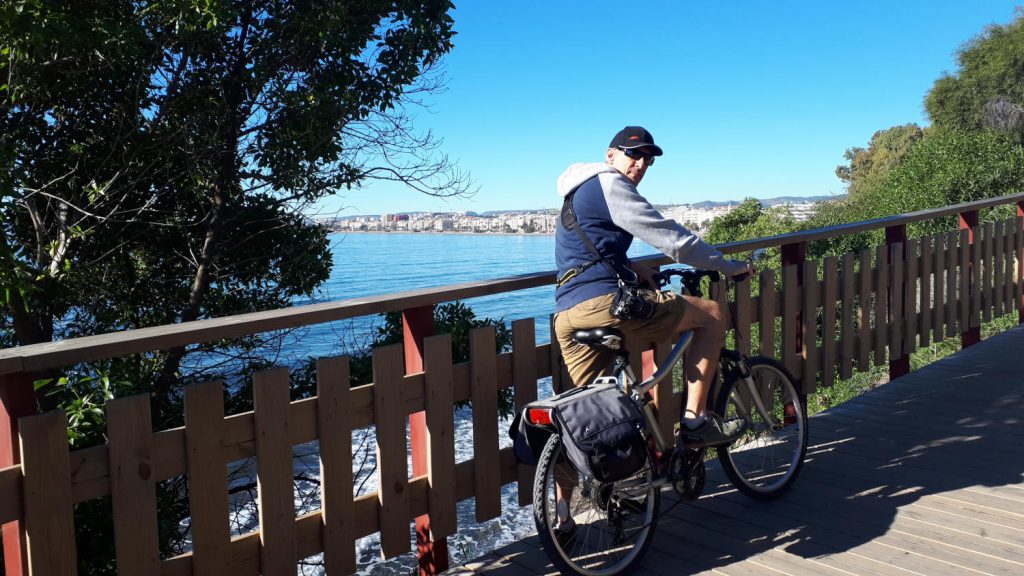 As we made our way along the boardwalk turned into a wide paved esplanade nicely bordered with colourful flowerbeds and mosaic planters and plenty of benches to sit at. Apparently there are plans afoot to create a continuous promenade all the way along the Andalucian coast. The Playa de la Rada beach alongside is a long, wide stretch of sand which was virtually deserted but is undoubtedly packed during the summer months. We carried on until we reached the marina area and a huge fish market. Taking the back route along the sea edge we cycled past all the fishermen sitting mending their nets and tending their boats accompanied by some enormous seagulls the size of small dogs.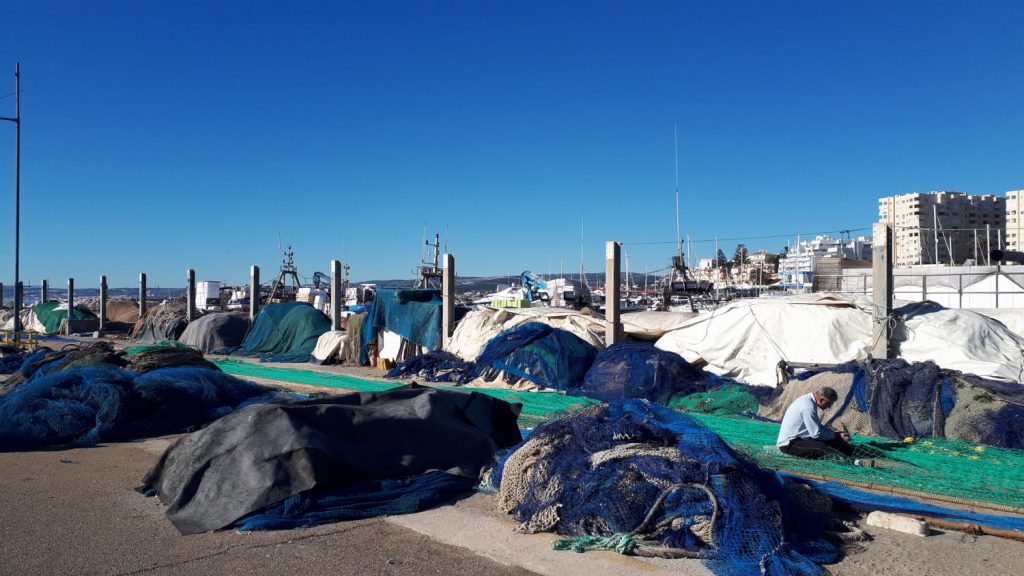 Coming back inland and round the marina on the other side there's a blue and white painted square and colonnade lined with restaurants that were all setting up for lunch, seafood being a particular speciality unsurprisingly. Further along the road led to a wide open sandy area where several motorhomes were parked, some possibly long term, leading on to El Cristo beach which looked lovely with a calm sea, attractive outlook and a couple of nice looking beach restaurants. Again, it was virtually empty being January but almost certainly teeming with tourists in high season.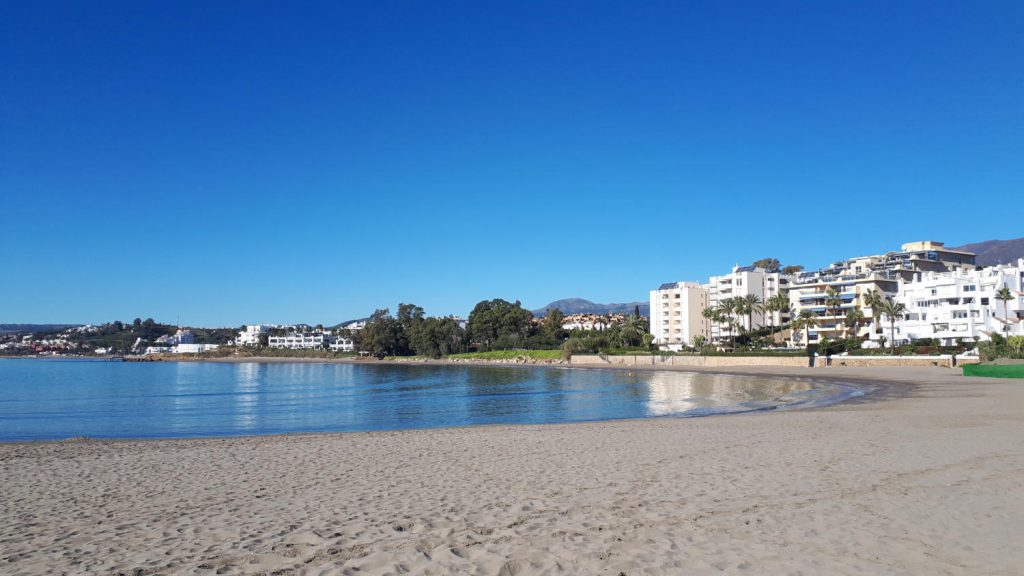 On the way back we stopped for a cup of coffee at a cafe feeling quite hot at this point. The sun had strengthened and there was no breeze which you don't notice when you're cycling because you create your own breeze, but when you stop you suddenly feel the heat. Thirst quenched we went back to Buzz for lunch and realised that we'd accidentally eaten our lunch for breakfast, a ciabatta which we'd intended to have with cheese and ham but instead had toasted with jam! We didn't have much else in and couldn't be bothered to go back out to the shop at that point so it was breakfast for lunch, a couple of weetabix with a chopped banana! Oh well, go with the flow we say! After lunch we were feeling relaxed and a bit lazy so we got the chairs out of the garage, got our books and walked over to the park and sat out for a couple of hours just soaking up some warm winter sun. Last night had been so nice sitting out watching the sun go down that we decided to repeat the dose and do it again. This time though we made a tiny friend in the form of a minuscule little black and white dog no bigger than Julian's pint glass. He wandered along the wall to us several times to be stroked and also to check out the 'big dog' at the next table, a lovely, young border collie with striking blue eyes.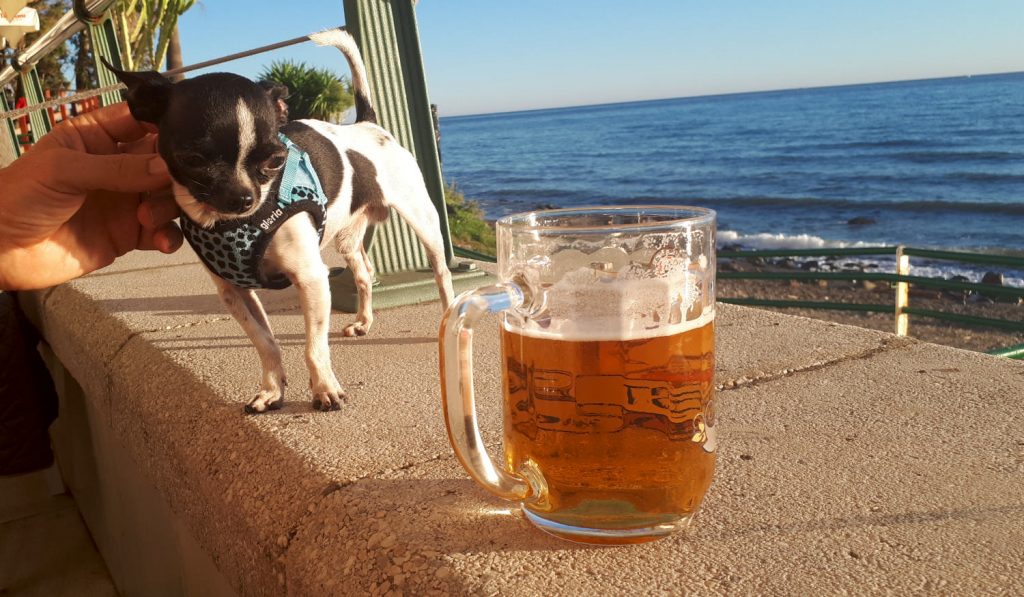 The next morning we set the alarm because it gets light quite late and with the blinds closed we don't realise how late it is. We were very glad we did because getting out of bed to put the kettle on we could see a bright beam of light shining though a small gap and pulling the blind down revealed a gorgeous dazzling orange sunrise streaking through the fluffy morning cloud and lighting up the sea. If only all mornings looked like that.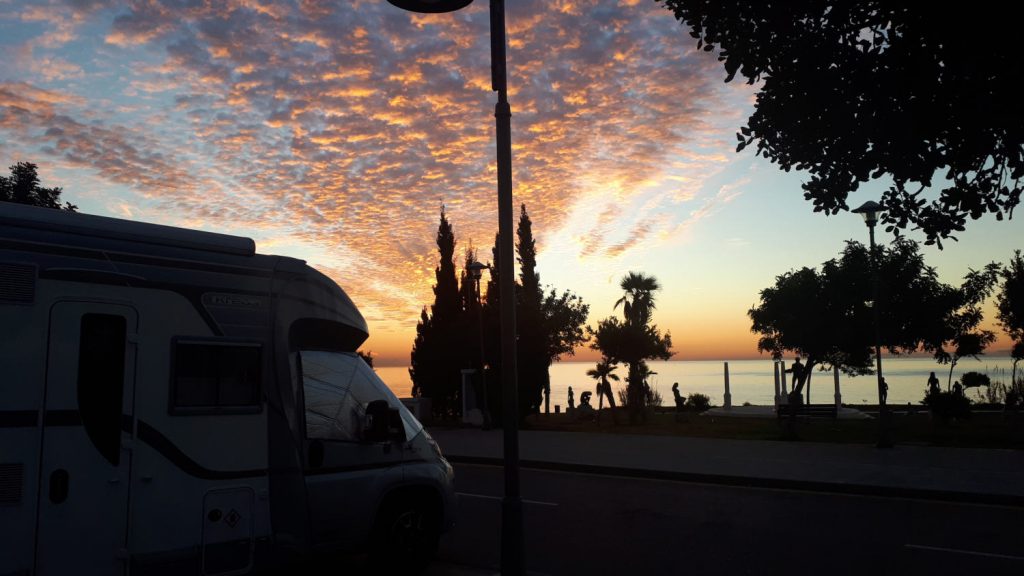 Needing to take on water and not able to source any nearby we took a longish hop down to Gibraltar. There's a huge car park at the marina at La Linea de la Concepcion with a motorhome area and services. It's quite a scenic service point with blue sea on one side and the yachts and marine the other. Water tank full we easily found ourselves a space from one of the 60 on offer with the rock of Gibraltar making a very picturesque backdrop. We left Buzz and took the short walk over to the border. Once across you can take a bus to the city centre or walk as we did (got to work off those Christmas chocolates somehow!), walking straight across the airport runway.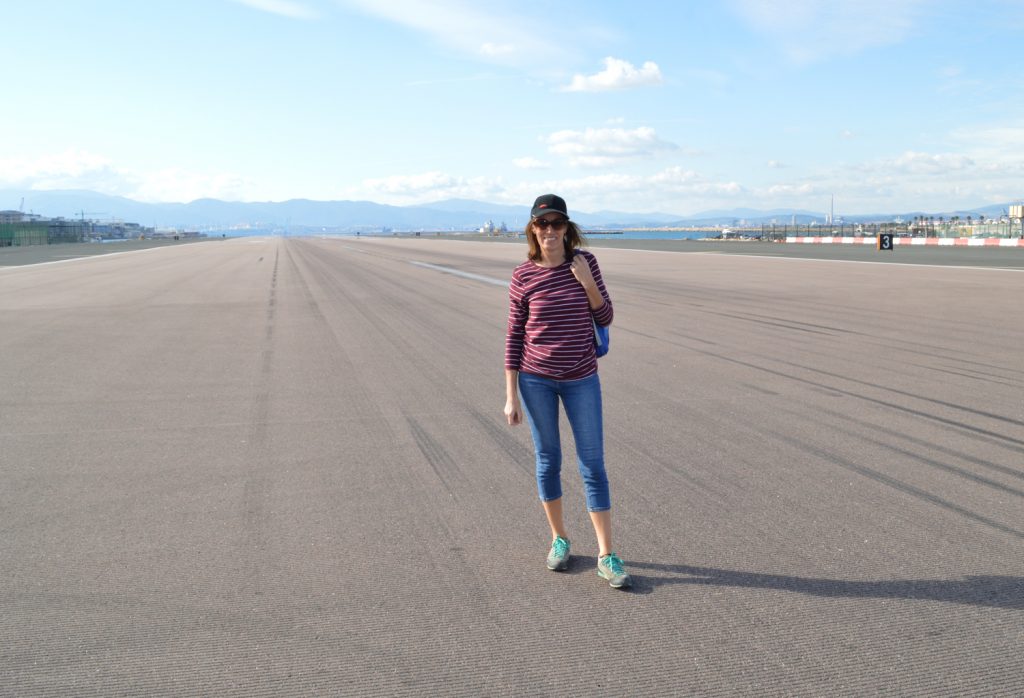 We'd been up to 'the rock' on a day trip about 10 years ago so decided not to do it again and just walk around the lower town this time. It was a shame because although it was a warm sunny day, the layout and high buildings meant that virtually all of it seemed to be in shade giving it a bit of a gloomy feel. We weren't overly enamoured with the town itself unlike the rock, caves, macaques and museum from our previous visit which were all much more worth a visit.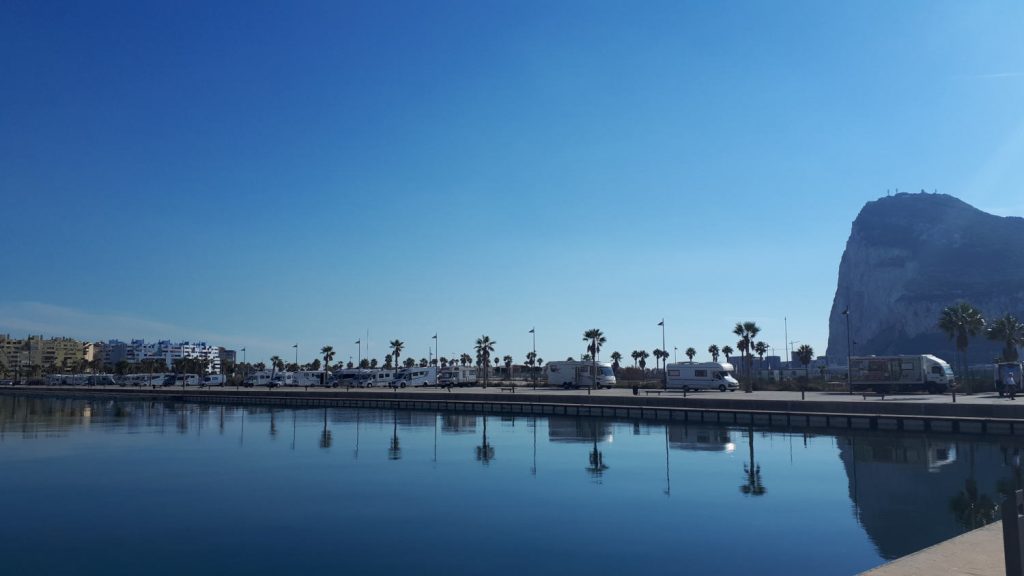 Tarifa was our next destination, a town on the Southernmost tip of Spain and in fact mainland Europe on the Costa de la Luz – know as the wind capital of Europe and a kite surfer's paradise. There are miles of fine white sand stretching into the distance, quite wild and natural in places. You can see the coast of Africa from here and as we walked along towards the Isla de Tarifa a 35 minute Tarifa to Tangier catamaran sped past us towards the port. The town itself is quite small and a little bit down at heel but there are a few interesting parts like the 10th century fortress of the Guzman el Bueno Castle which sits up high above the town and the old library building but it could all do with a bit of TLC and a coat of paint. We were just about to head back to the motorhome walking back along the beach front when we suddenly noticed that a few kitesurfers had appeared out on the water. The wind had got up and it was a bit chilly but there was a surfer's beach bar (Demente – shame about the name!) on the sand so we got a seat looking out to sea hunkered down using cushions as windbreaks and settled in to watch the action.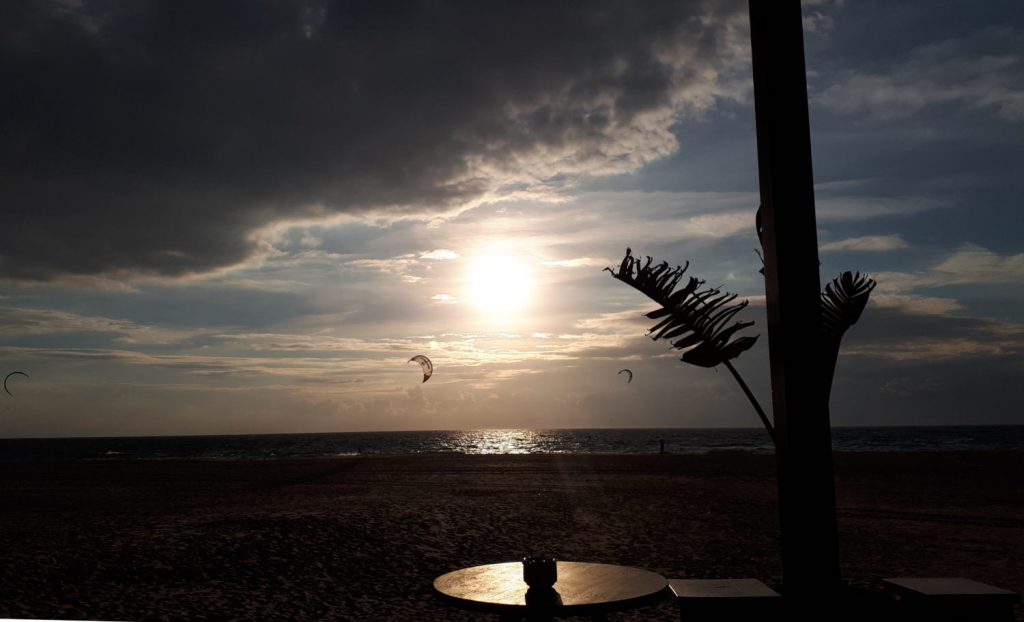 They seemed to move across the water with incredible speed, turn around and speed back in the opposite direction with absolute ease. It looks great fun but very skillful and hard work too. Even just hanging on to the kite must be a real struggle. As we watched, the sun started going down again, creating a glorious glow on the water and another beautiful sky to end the day with.