The Unesco city of gastronomy was next on our radar, the home of Prosciutto di Parma and Parmigiano Reggiano in the heart of Italy's Emilia-Romagna region – Parma.  Two of our favourite Italian foodstuffs were calling our names and we couldn't wait to get there, parking the motorhome on a wide avenue just outside the main centre of town and taking the short walk in.  As we approached what appeared to be the main road through, we soon heard the sound of drumming, cheering and loudspeaker announcements.  The route all the way along Strada della Republica was lined with market stalls and there was a steady stream of pedestrians walking towards the piazza ahead.  It was clear something was going on so we quickened our pace and caught a glimpse ahead of what appeared to be a marching band.  Reaching Piazza Garibaldi, the large open main square, we could see the announcer and the road ahead cordoned off with a parade of dozens of people in medieval costumes making their way down the street behind brightly attired musicians and flag bearers drumming, trumpeting and flag throwing as they went.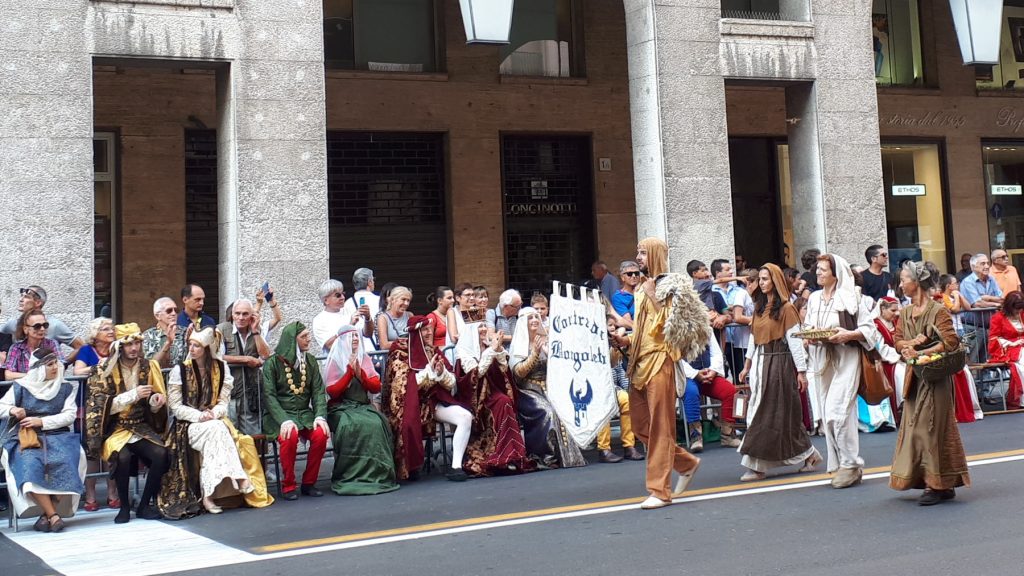 We had stumbled upon the Palio di Parma, a yearly event held on the 3rd Sunday of September and the culmination of several days of festivities ending with running and donkey racing. The history of the Palio dates back to a festival honouring the engagement of the son of one of the Lords of Parma and the daughter of one of the Lords of Padova, ending years of feuding and disputes.  Similar to the famous twice yearly Palio in Siena in which horses race, in the Parma version 5 teams in 5 differently coloured team costumes each represent one of the 5 ancient portes or gateways to the city. Leaving their respective portes they gather together in the Piazza Duomo making their way to Piazza Garibaldi for the parade, followed by the races – one for men, one for women and one for children on very reluctant donkeys.  Totally unexpected and fun this was quite a spectacle and certainly made sure we won't forget Parma in a hurry.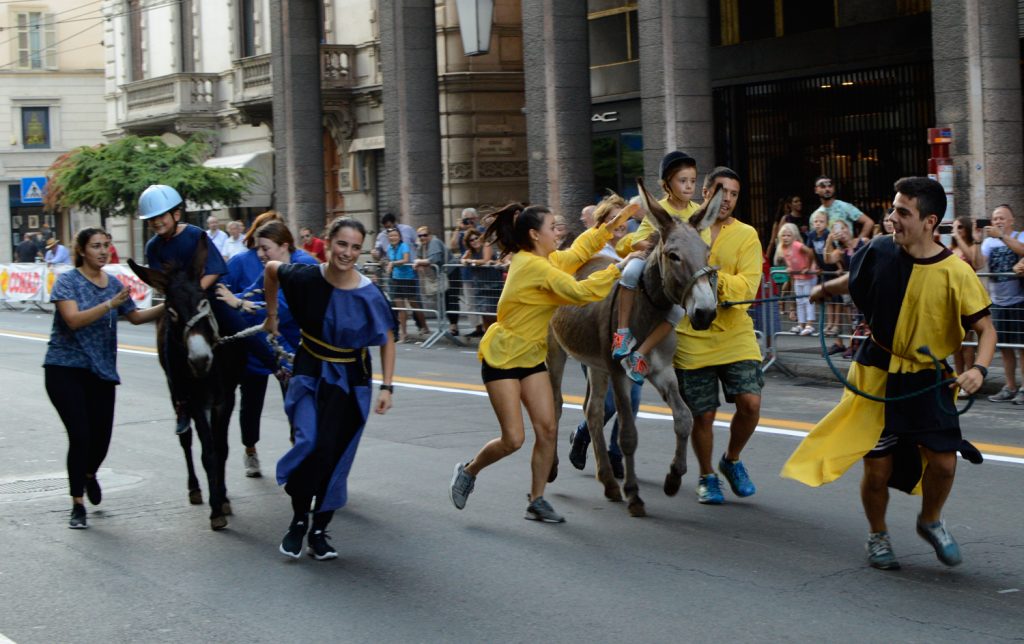 The Palio aside, the centre of Parma is bustling, elegant, with handsome streets and palatial buildings, high class boutiques and stylish eateries.  The tall buildings are painted bright orange, or in shades of yellow and pink with contrasting shutters and ornate stone balconies. A modern Italian city it has everything you would expect and more. We were expecting to see shops and delis overflowing with wheels of parmesan and parma ham but we didn't see more here than we'd seen anywhere else.  The outskirts and surrounding areas are where they are to be found in abundance and the best places of all are the factories where you can go and visit for a tour to see how it is all made.  Most of these only open at weekends though and you need to book in advance and as we arrived on a Monday we weren't able to go to any but if we ever return we will make sure to book a visit to a cheese producer.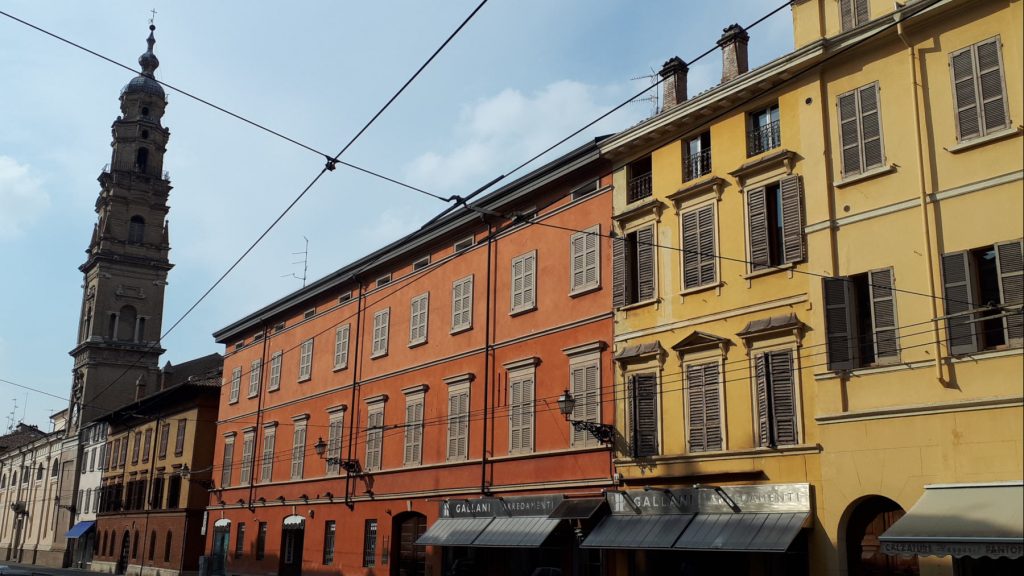 Emilia-Romagna is awash with food museums including one for salami, coffee, wine, vinegar, pasta and pomodoro tomatoes.  The pasta and pomodoro museums were close by our route and housed together in an old medieval farmhouse and former Benedictine monstery and we arrived really interested to see what was on show.  It turned out that these were closed too and usually only open at weekends or for booked in groups, but the offices were in the same location and as it was a working day they were quite happy to open up specially for us as we were already there.  Both museums house a huge selection of old machinery and industrial equipment recording the evolution of food production over the years from the development of durum wheat into pasta as we know it today and fresh pomodoro tomatoes into tomato puree.  The pasta museum even includes a completely restored 1800s industrial pasta factory, a wall full of original 1800s pasta shape extruders (trafila) made in copper and bronze along with dozens of intricate cutting wheels (speronelle). The range and diversity is quite astonishing when you see it altogether. Who new there were over 300 pasta shapes on offer?   The tomato museum shows a complete reconstruction of a tomato puree production line with 14 machines needed to complete the process – a lot more involved than you would think and interesting to see.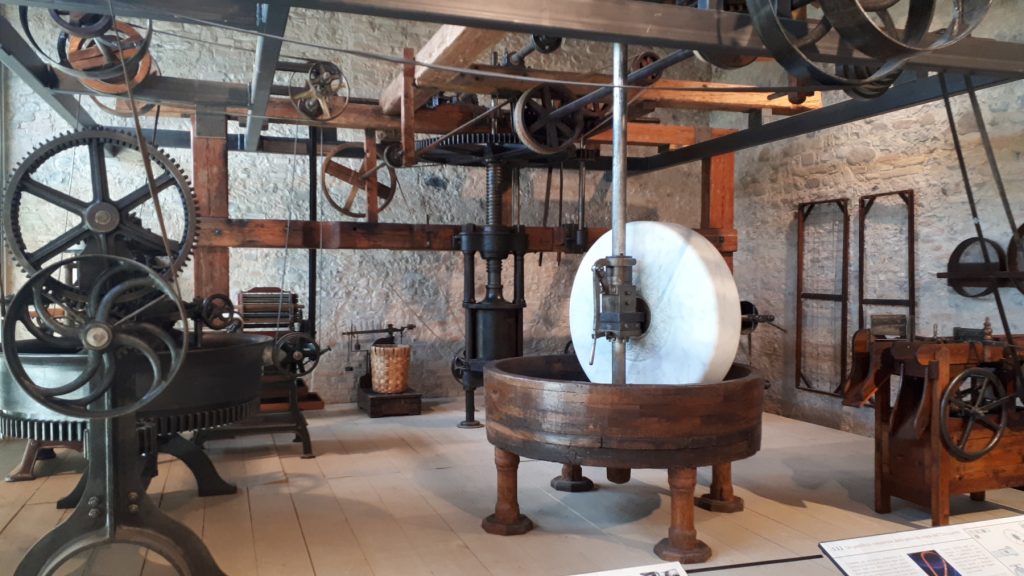 There are only so many food related things you can look at without getting hungry so it was off for a quick gelato before continuing our tour of the region in Modena and a visit to the enormous food city Eataly …….